First Forward Fuselage for 787 Dreamliner Shipped
Jan. 11, 2007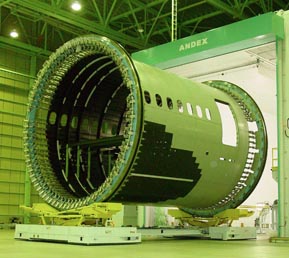 Tokyo, January 11, 2007 — Kawasaki Heavy Industries, Ltd. today announced that it has completed the development and production of the forward fuselage for Boeing's new midsize commercial airplane, the 787 Dreamliner. The forward fuselage was shipped from Nagoya Works 1 today.

The forward fuselage will be transported from the dock located near the Nagoya Works 1 by barge to the Central Japan International Airport. It will then be transported by the Boeing 747 Large Cargo Freighter (LCF), the Dreamlifter, to Global Aeronautica, LLC in South Carolina, U.S.A. Once it is combined with an aft fuselage section, it will then be shipped by air to Boeing in Washington for final assembly.

The 787 is a 200- to 300-seat midsize commercial airplane utilizing a number of innovative designs as well as cutting-edge manufacturing technology aimed at realizing highly efficient operation. The fuselage features a composite one-piece structure that is the world's first in a commercial aircraft, and requires a significantly different manufacturing process from that of existing airplanes. Kawasaki is involved in the development and production of the forward fuselage, the main landing gear wheel well, and the wing fixed trailing edge of the Dreamliner.

Kawasaki opened a new facility for production of key 787 Dreamliner components on July 10, 2006. Its new production line allows for an integrated manufacturing process from composite parts fabrication to assembly of the forward fuselage. The forward fuselage was produced with state-of-the-art equipment employed in the new facility such as an automatic fiber placement machine capable of simultaneously laying strips of prepreg tape and a six-meter cylindrical mandrel. The factory also boasts one of the world's largest autoclaves in its class, with a diameter of approximately nine meters, for curing the laid-up composite at high temperature and pressure.

Keeping to a tight product development schedule, Kawasaki successfully shipped its fuselage section ahead of other 787 Dreamliner joint development partners. Other key components of the 787 Dreamliner are now in the final stages of production. The airplane's first prototype is scheduled to take its maiden flight in the latter half of 2007.