Kawasaki Celebrates 20th Anniversary of Producing Railway Cars in the US
Oct. 04, 2006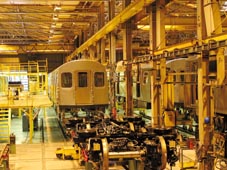 Tokyo, October 4, 2006 — Kawasaki Heavy Industries, Ltd. announced today that it celebrated the 20th anniversary of Kawasaki Rail Car, Inc. (KRC), Kawasaki's US subsidiary for production and sales of mass transit trains and subways. The ceremony took place on October 4th (local time) at the Yonkers, New York manufacturing facility where it all started.

Kawasaki was awarded a contract by the Port Authority of New York and New Jersey in 1984 to manufacture 94 rapid transit cars for the Port Authority Trans-Hudson Corporation (PATH) system and rehabilitate 248 existing PATH cars. At that time Kawasaki established its US subsidiary, Kawasaki Rolling Stock (USA), Inc. (KRS) in Yonkers, New York for production and engineering work on a project which began in March 1986. KRC was incorporated in 1989 and later took over the operations of KRS. Since the opening of its manufacturing facility in Yonkers, KRC has built approximately 1,800 subway cars and bi-level commuter rail coaches mainly for the mass transportation market on the East Coast of the United States. With more than 3,400 orders under its belt, including rail cars exported from Japan, and a backlog of orders, Kawasaki is well known among its clients for its excellent track record, technological superiority and top-notch quality. Kawasaki has delivered a cumulative total of 1,600 passenger rail cars to MTA New York City Transit (NYCT). Once it delivers its R160B subway cars, including all the options, it will become the largest supplier of subway cars to NYCT, next to Canada's Bombardier Inc.

Kawasaki operates two manufacturing facilities in the U.S., the KRC Yonkers plant and the Kawasaki Motors Manufacturing Corp., U.S.A. (KMM) plant in Lincoln, Nebraska, which is the only facility in the U.S. designed for integrated mass production of commuter train and subway cars. Following the production of its R160B subway cars, Kawasaki will start production on 340 PA-5 subway cars for PATH in 2008 and 300 M-8 AC/DC electric passenger cars for Metro-North Railway in 2009.

KRC leverages its convenient location next to New York City to provide field services to NYCT, PATH, the MTA Long Island Railroad and the MTA Metro-North Railroad, that include project management, material procurement, final assembly, testing, maintenance and product support for the rail cars after delivery.

Kawasaki's rail car production operations are based at its Hyogo Works in Kobe, Hyogo Prefecture, where the main focus is on the development and design of rail vehicle systems, production of rail cars for domestic and overseas markets, excluding the U.S., and production of bogies and bogie equipment for the domestic and global markets. Working closely with KRC and KMM, the Hyogo Works has realized the reduction of marine transport costs and foreign exchange risks while establishing a highly efficient and flexible production system. Kawasaki will continue to expand its rolling stock operations on a global scale by leveraging its strong operational foundation.