Kawasaki Delivers Shield Machine for Korea's Incheon Airport Railway Corp.
Oct. 03, 2006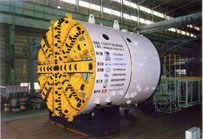 Tokyo, October 3, 2006 — Kawasaki Heavy Industries, Ltd. announced today that it has delivered a shield machine to Dong-A Geological Engineering Co., Ltd. for use in subway construction work in Korea. The shield machine, which was manufactured at Kawasaki's Harima Works, was disassembled once so it could be transported to Korea and reassembled after arrival. It is scheduled to be put into operation in December 2006.

The earth-pressure balanced shield machine delivered by Kawasaki has a diameter of 7.93 m. It will be used to excavate a 1.9 km leg of the 61.5 km long railway project being undertaken by the Incheon International Airport High-speed Railway Corporation. Section 2-5B, which will include Seoul's Magok Station, is scheduled for completion in November 2008. Combining shield tunneling technology for soft ground with tunnel boring machine (TBM) technology for hard rock and gravel layers, the shield machine can excavate various compositions of soil and rock.

Kawasaki boasts an impressive track record, having delivered more than 1,300 shield machines and TBMs to customers in Japan and other parts of the world, including six units to Korea for the construction of the Seoul Subway Line 9 and other projects. This latest order follows orders in December 2003 and October 2004 for eight shield machines used in construction of the Singaporean subway, reinforcing Kawasaki's reputation for technological superiority in this field.