Kawasaki to Test Humanitarian Demining System in Cambodia
Jun. 21, 2006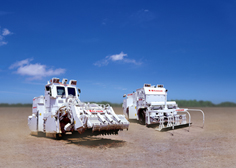 Tokyo, June 21, 2006 – Kawasaki Heavy Industries, Ltd. today announced that it will conduct tests of its BULLDOG humanitarian demining system in Cambodia from July.

The system was confirmed to be safe and effective during a series of tests in actual Afghanistan minefields in 2005. The focus of the Cambodian tests is to determine the particular needs of the country's minefields so that the system can be further enhanced.

The anti-personnel (AP) landmine-removing system consists of the MINEDOG, a detection vehicle with sensors and cameras; the MINEBULL, a clearance vehicle with a high-speed digging drum to excavate and detonate landmines, and a machine to collect metal fragments; and remote-control operation equipment.

The MINEDOG's 8-channel sensors and proprietary software detect and identify AP landmines and unexploded ordnance. For the Cambodian tests, additional functions have been added to allow operations in areas with light vegetation, and to enable the vehicle to operate on soft terrain.

The MINEBULL is equipped with digging depth control equipment, remote-control equipment, a GPS antenna and cameras to monitor the drum and the vehicle's path, as well as a metal fragment collection bucket to simplify verification that all ordnance has been removed.

Kawasaki shipped the MINEBULL to Cambodia this month and will commence tests in actual minefields in July. In August, the MINEDOG will be shipped and functional tests will begin in October.

Kawasaki has long contributed to Japan's efforts to assist in international reconstruction efforts in war-torn areas through humanitarian demining, as well as to global non-governmental activities aimed at mine clearance efforts.