Coal Moisture Control Plant Delivered
May. 15, 2006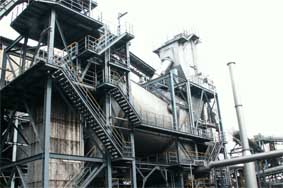 Tokyo, May 15, 2006 – Kawasaki Plant Systems, Ltd. (K Plant) today announced that it has delivered a coal moisture control (CMC) plant to the Kita Kyushu Coking Works of Mitsui Mining Co., Ltd. The plant will be used to dry coking coal to target levels to assure coke quality, thus reducing energy consumption and enhancing productivity. It was codeveloped with Mitsui Mining for a 220 t/hour coking works in Kita Kyushu. K Plant supplied the equipment on a full turnkey basis.

The CMC plant is comprised of an automated coal-in-tube (CIT) drier, which dries coal inside the bundled tubes of a rotating drum, a conveyor, a steam supply, a hot water recovery system and an energy control system. The drier is corrosion- and abrasion-resistant and utilizes an indirect-heating method. The smaller tubes make it compact, allowing suitable processing time. The coal is not crushed and particle generation is thus reduced.

Kawasaki's CMC plant reduces the moisture content in coal from a conventional 9% - 12% to a stable 8%, thus greatly enhancing quality and operational stability, resulting in a production efficiency increase of 10%. It also reduces the fuel requirements of coke ovens. K Plant is a leading supplier of CMC plants, with six prior installations in steel and chemical company facilities.