185,000 DWT
Cape Med

Delivered

Apr. 28, 2006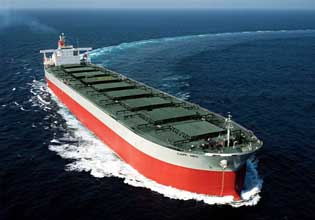 Tokyo, April 28, 2006 – Kawasaki Shipbuilding Corporation today delivered the large bulk carrier Cape Med, with a deadweight of 185,000 metric tons, to "K" Line Bulk Shipping (UK) Ltd. at its Sakaide Shipyard.

The carrier, identified as Kawasaki hull No. 1569, complies with new safety regulations established by the International Maritime Organization. The 290 m long carrier features a body design that incurs less propulsion resistance, and is equipped with a fuel-efficient diesel engine, high-performance propellers and the Kawasaki rudder bulb system with fins (RBS-F).

In an effort to boost the ship's eco-friendliness, Kawasaki has reduced the NOx content of exhaust emissions, replaced the engine room's firefighting extinguishers with foam rather than Co2 gas, and adopted new refrigerants in the air conditioners and freezers.