Kawasaki Completes Landmark Marine Diesel Engine
Apr. 26, 2006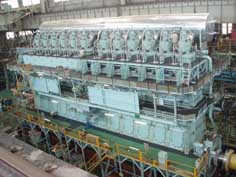 Tokyo, April 26, 2006 – Kawasaki Heavy Industries, Ltd. today announced that it has completed the world's largest class marine diesel engine with electronic control, the Kawasaki-MAN B&W 12K98ME. It will be installed by IHI Marine United Inc. on an 8,000 teu container ship ordered by Kawasaki Kisen Kaisha, Ltd. (K-Line).

Equipping the ME engine with electronic control increases fuel efficiency and reduces cylinder lubricant requirements. It also allows stable operations under low engine speeds, thus providing higher maneuverability while entering and leaving port, and features lower NOx and soot emissions. Kawasaki is already at work on its next order for the environmentally friendly engine.

Kawasaki's manufacture of marine diesel engines began with a licensing agreement with Germany's MAN in 1911. Following the merger of MAN and Denmark's B&W in 1981, Kawasaki renewed the agreement and began producing Kawasaki-MAN B&W 2-stroke diesel engines. To date, it has delivered enough MAN B&W engines to output over 10 million horsepower.

In February 2005, Kawasaki unveiled its first electronically controlled model, the MAN B&W 7S60ME-C engine, which was installed in a K-Line car carrier. Two more have since been delivered.

The 12K98ME marks Kawasaki's fourth ME engine to be completed. The Company is now fulfilling its second order for the model, with a backlog of five orders.