Kawasaki Wins High-Speed Train Order for China
Oct. 20, 2004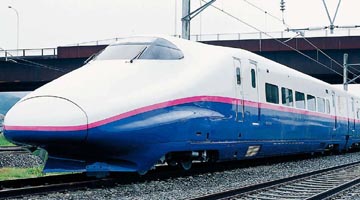 The E2-1000 Shinkansen bullet train on which the design of new trains will be based.
In October 2004, China's Ministry of Railways awarded an order for high-speed trains, 480-cars arranged in 60 eight-car trains, jointly to Kawasaki and Nanche Sifang Locomotive, a rolling stock manufacturer based in Qingdao, Shandong Province.
In this contract, Kawasaki is Nache Sifang's partner, the leader of a six-company Japanese consortium including Mitsubishi Corporation, Mitsubishi Electric Corporation, Hitachi, Ltd., Itochu Corporation and Marubeni Corporation, and in charge of managing the overall design and manufacture of the cars. Of the total contract value amounting to approximately 140 billion yen, Kawasaki's portion is about 80 billion yen, which covers finished and knocked-down cars and components for Chinese production.
The order is part of China's project to increase speeds on existing railway lines stretching some 2,000km by introducing new trains. The country places great importance on this project, as a means to ease its bottlenecks in railway transportation and promote rapid economic development. The ordered trains will have a maximum speed of 200km/h with designs based on the series E2-1000 Shinkansen bullet trains for East Japan Railway Company (JR East). Kawasaki will make design changes and supply the first three finished trains and the following six as knocked-downs. The expected delivery of finished trains is February 2006. After that, Nache Sifang will build the remaining 51 trains in China by using the production technology transferred by Kawasaki.