Kawasaki Signs a Memorandum of Agreement for Its Participation in the 7E7 Dreamliner Project
Oct. 19, 2004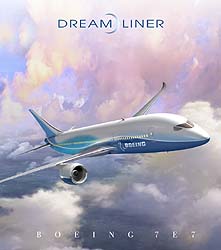 TOKYO (October 19, 2004)— — Japan Aircraft Development Corporation(JADC), Mitsubishi Heavy Industries, Ltd.(MHI), Kawasaki Heavy Industries, Ltd.(KHI), and Fuji Heavy Industries Ltd(FHI) signed a Memorandum of Agreement (MOA) outlining key terms and conditions for their participation in the development and production of the 7E7 Dreamliner with The Boeing Company.

In this project, MHI will be responsible for the main wing box. KHI will provide part of the forward fuselage section, the main landing gear wheel well and the main wing fixed trailing edge. FHI is focused on the center wing box and integration of the center wing box with the main landing gear wheel well. The total work share of Japanese firms will account for approximately 35% of the 7E7 structure.

The 7E7 Program is progressing on schedule, i.e., to begin production in 2006, conduct first flight in 2007 and enter into service in 2008.

7E7 DREAMLINER website.