Kawasaki's Participation in Development and Production of Trent 1000 Engine
Oct. 13, 2004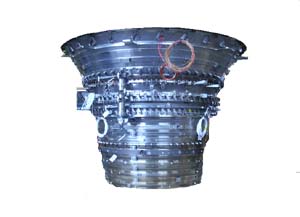 In October 2004, Kawasaki reached a basic agreement with Britain's Rolls-Royce plc to participate in the development and production of the Trent 1000 engine as a risk and revenue sharing partner (RRSP). Being developed by Rolls-Royce, the Trent 1000 is a state-of-the-art jet engine for passenger aircraft with between 53,000-70,000 pounds of thrust. The engine will be installed on the 7E7 Dreamliner, a new 200-250 seat medium-sized passenger aircraft being developed by the Boeing Company. Rolls-Royce has already received orders for the engine from All Nippon Airways (ANA) and Air New Zealand.

In the Trent 1000 development and production program, Kawasaki is responsible for the production and assembly of the intermediate pressure compressor (IPC) module, and plays a leading role in the design and development of the IPC module in conjunction with Rolls-Royce, for the first time in a Trent program. As one of the eight primary modules that constitute an engine, the IPC module has a diameter of about 1.5m, length of about 1.5m and is comprises approximately 2,000 components.

Kawasaki will also carry out part of the testing of the engine during development, as we did for the Trent 500 for which an RRSP agreement was concluded in 1998. In total, Kawasaki's working share of the Trent 1000 program will account for 8.5% – the highest ever for the company in the Trent series. This will add sales revenues, including after-sales services, of around 500 billion yen over some 20 years commencing in 2008. Kawasaki has already dispatched its engineers to Rolls-Royce and started joint design/development work for the IPC module.