Japan's First Offshore Wind Power System Delivered to Hokkaido
Feb. 09, 2004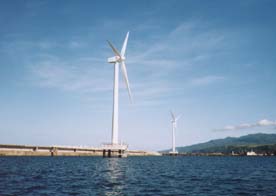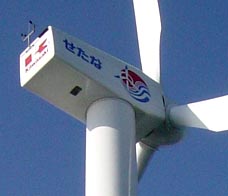 Japan's first offshore wind power system, with a rated output of 1,200kW, was delivered by Kawasaki and Penta-Ocean Construction Co., Ltd. to Setana-cho, Hokkaido in February. Effectively using the area inside a breakwater, the system's foundation is built 13m deep and approximately 700m off Setana Port, in the waters off the outer east breakwater. Two units of 600kW wind power generators have been installed 330m apart, connected with receiver/transmitter land stations via a 1.2km underwater cable.

The V47 generators are supplied by Vestas Wind Systems A/S (Denmark), which boasts the world's largest market share for wind power systems. The V47 measures 47m from sea level to the center of the generator (hub height), with an outer blade diameter of 47m. It optimizes and stabilizes power output by varying the blade pitch angle according to wind velocity, and varying generator slip through electronic control of the blade and turbine rotation.

Kawasaki believes this landmark delivery will encourage introduction of larger scale offshore systems in Japan like those that have been widely promoted in Europe. Kawasaki had constructed a total of 32 wind power systems as of the end of March 2004.

In 2000, Kawasaki assumed a stake in Vestech Japan Corp., the exclusive Japanese distributor of Vestas' wind power systems.