KAB Completes Initial Shipment of Main Wings for Embraer 195/190
Oct. 09, 2003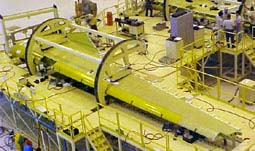 On October 10, 2003, Kawasaki Aeronáutica do Brasil Indústria, Ltda. (KAB), the only Japanese aircraft manufacturer located overseas, will ship the main wings to Brazilian company Empresa Brasileira de Aeronáutica S.A(Embraer) for the first Embraer 190/195, the 98-108 seat class regional jet, which is currently under development.

Kawasaki established KAB in April 2002 with the Embraer 190/195 wing assembly plant commencing operations a year later. The completed wings are to be integrated into the aircraft upon delivery to Embraer.

Kawasaki's Gifu Works has been providing components to the Brazilian company for the smaller 70-78 seat class Embraer 170/175 since April 2001. Kawasaki entered into a contract for development and production of the wing box and other wing components of the Embraer 190/195 in May 2001 and is currently carrying out development for this. In addition to the wing stub (center wing) and mobile wings such as flaps, ailerons and spoilers, which Kawasaki has been producing under contract for the Embraer 170/175, Kawasaki has added the wing box to its lineup, thus meaning the company develops and manufactures the entire wing of the Embraer 190/195.