TRT Generating System Provides Environmentally Friendly Power Supply for Chinese Steel Mill
Aug. 20, 2003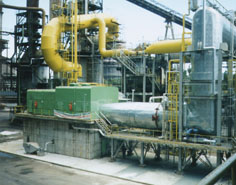 Kawasaki has received an order for a top pressure recovery turbine (TRT) generating system with a capacity of 20,440 kW from Shanghai Baosteel International Economic and Trade Co., Ltd. with delivery of the system slated for June 2004.

The TRT generating system is driven by the exhaust gas pressure generated from the steelworks' blast furnace and converted into electricity using a turbine. In addition to energy savings, noise is reduced when gas is passed through the turbine. Because of the system's environmentally friendly features, TRT generating systems are standard for almost all large blast furnaces in the world.

Kawasaki's TRT generating system is unique in that it doesn't rely on a conventional governing valve to control the blast furnace's top pressure, instead employing the turbine's variable stator blades. This method dose not control the gas flow rate from the blast furnace by adjusting the valves, but adopts a method wherein the angle of the blades are continuously adjusted. This enables efficient, low-noise generation with minimal energy loss, even when the gas flow rate and pressure from the blast furnace change.

Recently in China, demand for power has risen considerably leading to electricity-hungry steel plants to introduce their own power source. Another factor is the increasing necessity to alleviate the burden on the environment as China develops industrially. The order for a TRT generating system from Baoshan Iron & Steel reflects this shift in China's socioeconomic status.