First-Time Delivery of Kawasaki Gas Turbine to Turkey
Aug. 16, 2003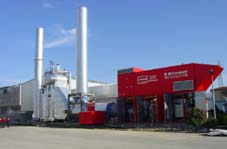 Kawasaki completed delivery to Turkish textile manufacturer, Ozdilek Textile Inc. a gas turbine package for cogeneration facility that has a newly developed fuel injector system capable of using natural gas, light oil and liquefied petroleum gas (LPG) combusted in its liquid phase. This is the first time Kawasaki has delivered a gas turbine package to Turkey.

The Kawasaki-developed fuel injector system prevents vapor lock, which is caused by LPG vaporizing in the fuel nozzle, by using the heat from vaporization when a portion of the LPG is vaporized to cool the fuel passage. This allows for stable liquid phase combustion of LPG. Additionally, although LPG and 100 percent butane gas are known to be difficult to handle as fuels because parts of the injector system often cannot withstand heat, liquid phase combustion is now possible.

The cogeneration facility uses the Kawasaki-developed gas turbine engine, the M7A-02, with the new injector system and is capable of generating 7,000 kW and 12 tph of steam. Ozdilek intends to use the power and steam mostly within its textile plant. With its ability to use three different fuels, the fuel injector system, which in this case will normally use natural gas, can automatically switch to LPG or light oil if the natural gas supply is cut, effectively providing a steady power supply.