FAA Awards Kawasaki License for Helicopter Transmission Repair
Jul. 29, 2003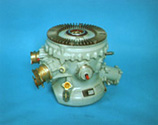 In a breakthrough for Kawasaki's MD900 Explorer helicopter repair business, this July the U.S. Federal Aviation Authority (FAA) granted a transmission repair license to the company. This is the first time the FAA has issued such a license to a Japanese aircraft company.

The MD900 is a small twin-engine helicopter. The new tail system, known as the NOTAR® system, eliminates the need for a rotor giving the MD900 a reputation for low noise and superior safety. Made by MD Helicopters Inc. (MDHI), over 100 MD900s are used the world over by mass media, law enforcement agencies, and emergency rescue teams.

Kawasaki developed the transmission for the MD900 in 1990 with it now being used in all MD900s. The transmission, which transfers power from the engine to the rotors, is an essential component of all helicopters. Compact and lightweight, the transmission is known to be ultra-reliable by MDHI and pilots alike.

With the transmission repair license, Kawasaki is now in a position to receive transmission repair work directly from helicopter operators. The company anticipates great improvements in speed and attention to detail, and intends to use the experience that will be gained towards further product development.