Main Wing Assembly Plant Completed for Brazilian Aircraft
Apr. 24, 2003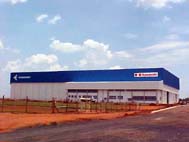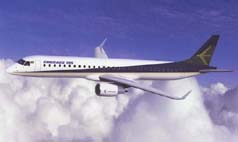 Kawasaki Aeronáutica do Brasil Indústria, ltda. (KAB), a subsidiary of Kawasaki that was established last year, has completed the construction of a new plant to assemble the main wing components of the Embraer 190/195 (90-108 seat regional jet), which has been jointly designed and developed by Embraer and Kawasaki. An opening ceremony was held on April 24 for the new plant.

Embraer, a world-class aircraft manufacturer of Brazil, recently constructed an aircraft assembly plant in the city of Gavião Peixoto, 300km northwest of São Paulo, complete with 5km runway and aircraft assembly hangar. KAB's new facility was built within this plant for use in the final assembly of the main wing components of the Embraer 190/195. The main wing components assembled here are delivered to Embraer's main São José dos Campos plant for final assembly of the aircraft.

The new plant will begin assembly of the first aircraft in July, aiming for the first flight to be conducted this fall.

The assembly of Embraer 190/195 main wings by KAB inside the Embraer plant reduces manufacturing and transportation costs. This also enhances the strong relationship between Embraer and Kawasaki. We are actively working to expand our commercial aircraft business through such affiliations.