Kawasaki Completes TBM for Full Face Railway Tunnel Excavation
Feb. 13, 2003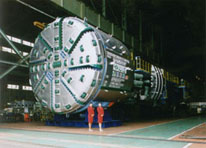 Kawasaki has completed the construction of a tunnel boring machine (TBM) boasting a diameter of 6.82m at the company's Harima Works. Built for the East Japan Railway Company for construction of the Shin-Agatsuma Line, Gunma Prefecture, the machine was dismantled at the Works and reassembled on-site to begin boring in summer 2003.

Kawasaki received the order for a TBM to be used in construction of the tunnel (total length of 4,582m) between Iwashima station and Shinkawarayu-onsen station from the consortium made up of Shimizu Corporation, Nishimatsu Construction Co., Ltd. and Hazama Corporation.

This TBM is Japan's first full cross-section TBM for train tunnels and is to be used in the Yatsuba Tunnel, which is the longest tunnel section in the construction of the Shin-Agatsuma Line. The use of a TBM for boring the tunnel reduces the time required and increases the level of safety, while limiting the effect on the environment caused by noise and vibration during construction.

The TBM completed on this occasion is the newest type of excavator called an open TBM with high output and high propulsion that handles both hard rock and the fracture zone. The machine is equipped with a drilling and directional control system to ensure drilling precision. A large workspace has been placed over the drilling section and the machine is outfitted with a system to carry out shoring and ancillary work.