New JET SKI STX-12F Boasts Higher Power, Lower Emissions
Dec. 24, 2002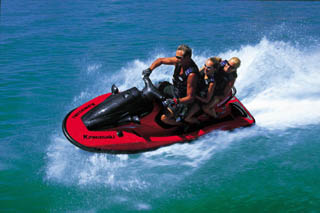 Kawasaki recently released the 2003 JET SKI STX-12F watercraft, the first model featuring a four-stroke engine and the most technologically advanced in the series. With its design based on the Ninja ZX-12R, one of the world's highest performance sportbikes, the engine was developed to enable Kawasaki to easily meet strict acceleration noise and exhaust emissions standards in Japan and overseas.

Along with the water-cooled, four-cylinder 1,199cc engine, the three-passenger watercraft is equipped with electronic fuel injection and offers an unbeatable combination of massive power, low emissions and quiet operation. The one-piece hull is made of fiberglass and gel coating, based on the highly rated JET SKI 1100 STX series, increasing intensity and rigidity while decreasing weight.

The combination of high performance engine and hull provides superior power delivery and easy maneuverability. The STX-12F marks a new era in four-stroke technology for JET SKI watercrafts.