New Wheel Loader Meets Higher Emission Standards
Mar. 13, 2002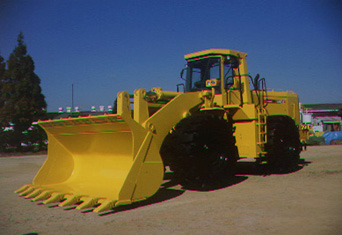 Kawasaki released two new wheel loader models in January 2002, the 32-ton 95ZV and the 46-ton 115ZV. Both comply with the latest exhaust emission standards in the United States, Europe and Japan. The large, multipurpose wheel loaders are ideal for loading materials - from lightweight wood chips to extra-heavy steel material, crushed stones or wood logs - into trucks using a variety of inter-changeable attachments. Their bucket capacities are 5.0m3 and 6.1m3, respectively.
Kawasaki successfully reduced the nitrogen oxide and particle matter emission levels in the vehicles' exhaust gas by adopting preprogrammed engines with air coolers that provide optimum fuel injection. Compared with Kawasaki's conventional models, such as the 95ZIV or 115ZIV, these are 10%-15% more fuel efficient.
The loaders are also energy efficient: by using hydraulic cooling fans that are larger and rotate more slowly, the models are much quieter, meeting even the strict European Directive on Environmental Noise.
The vehicles are equipped with an automatic engine warm-up function that is much faster than current models, particularly in low temperatures, and the operator cabins boast 20% more space than conventional models. They also come with a fully automatic air conditioner - the first in the wheel loader industry - for improved operator comfort.