New Low-Cost, High-Strength CFRP for Aircraft
Oct. 31, 2001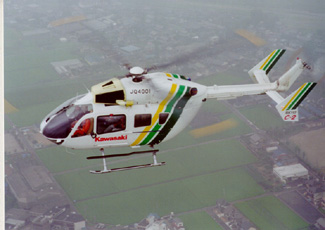 Kawasaki has developed a new carbon fiber-reinforced plastic (CFRP) material for aircraft, called KMS-6115. It ensures high strength at a greatly reduced cost.
Conventional aircraft CFRP uses a special grade of carbon fiber to achieve high quality and strength. But this results in low yields and high costs.
Kawasaki's KMS-6115 combines the latest high-performance industrial carbon fiber with low-cost epoxy resins that feature high tenacity. Kawasaki was able to achieve a 60 percent improvement in tensile strength and to boost compressive strength 30 percent even as it lowered the cost.
After the Japan Civil Aviation Bureau (JCAB) approval of KMS-6115 as a new aircraft manufacturing material is granted in Europe and the U.S., we will market it as a cost-competitive product to the Boeing Company and other aircraft manufacturers.
An agreement has already been reached with Embraer (Empresa Brasileira de Aeronautica S.A.) of Brazil, to use the KMS-6115 in the moving surfaces of the main wing of the ERJ170 and ERJ190 passenger jets being developed jointly by Kawasaki and the Brazilian manufacturer. We will continue to expand the scope of applications of the new CFRP material in the aviation industry, and to contribute to the civil aviation business.