Payload Fairing for H-IIA Launch Vehicle Delivered
Jul. 16, 2001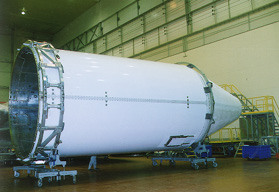 Kawasaki recently delivered a payload fairing to the Tanegashima Space Center of Japan's National Space Development Agency (NASDA). The fairing, which protects payloads from heat and aerodynamic forces during flight, was fabricated at Kawasaki's Gifu Works and assembled at its Harima Works. The fairing will be mounted on NASDA's H-IIA Test Launch Vehicle No. 1, which is scheduled for launch on August 25.
The 4-meter single-payload fairing(4S model) will protect the H-IIA's Vehicle Evaluation Payload 2 (VEP-2) and Laser Ranging Equipment (LRE), both of which will help determine the vehicle's orbit. It will separate from the vehicle at an altitude of 140 km, and the LRE will be deployed at about 1,800 km.
Kawasaki has played an important role in Japan's space program, winning its first fairing contract for the H-II launch vehicle in 1988 and supplying nearly all the fairings since then. In addition to the 4S model, it has also developed and manufactured models that can enclose two satellites. The 4S fairing for the H-IIA consists of a honeycomb sandwich structure that is 12 m long and 4.1 m in diameter, and can protect a payload of up to 10.2 m long and 3.7 m in diameter.