World's First Floating Soccer Field Finds Home in Sapporo
May. 29, 2001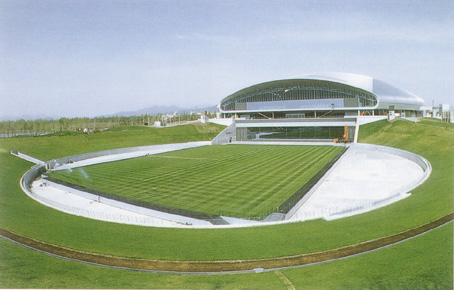 Kawasaki has recently delivered its movable natural grass soccer field, called Hovering Stage, and retractable seats to Sapporo Dome in Hokkaido, the venue for the 2002 FIFA World Cup kick-off game in Japan.
The Sapporo Dome features a shell-shaped clopen (closed/open) dome, with both indoor and outdoor arenas. Kawasaki's Hovering Stage is designed to move in and out of the dome, providing either natural grass for soccer or artificial turf for baseball. It features the world's first such pneumatic flotation system, which raises the 8,300 ton stage 7.5 cm off the ground using air pressure (8.8 kPa, about 9 The stage has 34 wheels around it to enable movement. The air pressure reduces its weight by 90 percent and the entire stage can be moved to a new setting in about two hours, at a speed of 4 m per minute.
Kawasaki also delivered two sets of approximately 2,000 retractable seats to the dome. During the transformation of the Hovering Stage, the seats are folded and stowed away under the fixed seats.