Additional Order for 120 Subway Cars Received from New York City Transit
Feb. 08, 2001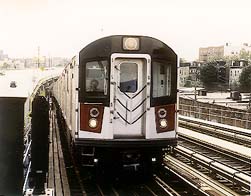 Through its U.S. subsidiary, Kawasaki Rail Car, Inc. (KRC), based in Yonkers, New York, Kawasaki has acquired an order for 120 subway cars from New York City Transit (NYCT).
Kawasaki plans to deliver these new cars during the period from March 2002 to August 2002.
This order follows on a supply contract of 400 subway cars concluded between KRC and NYCT in July 1997. The new stainless steel cars are lightweight and equipped with state-of-the-art electronic systems. For passenger comfort, seats with spacious, curved benches and high backs have been installed. Windows are provided at both ends of the vehicle for passenger safety.
Production of the additional 120 subway cars is expected to take place at three locations: Kawasaki's Hyogo Works, KRC's Yonkers Plant, and the new rolling stock plant at Kawasaki Motors Manufacturing Corp. (KMM) in Lincoln, Nebraska, scheduled to go into operation in April 2002.
This largescale order demonstrates the excellent reputation Kawasaki has gained for its delivery performance and technical capabilities. Kawasaki anticipates another new largescale car replacement contract from NYCT, which will undoubtedly support Kawasaki's commitment to serving the North American market.