MoU Signed with PTT Global Chemical for Hydrogen Gas Turbine Power Generation Facility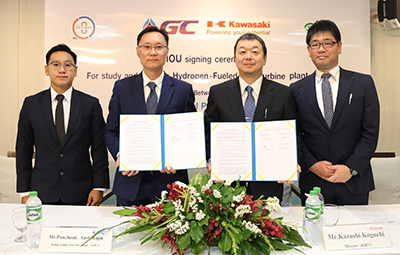 Kawasaki Heavy Industries announced today that its local subsidiary in Thailand, Kawasaki Heavy Industries(Thailand)Co., Ltd. (KHIT) has signed a Memorandum of Understanding (MoU) with PTT Global Chemical Public Company Ltd. (GC) to study the development, construction and operation of a hydrogen gas turbine power generation facility using a hydrogen gas turbine developed by Kawasaki.
GC has set a goal of reducing greenhouse gas emissions to virtually zero by 2050, and under the signed MoU, the companies will promote various studies as part of the solutions to global warming committed by GC.
In Kawasaki's Group Vision 2030, which describes the company's future vision for 2030, "Energy and Environmental Solutions" has been specified as one of the areas it will focus its efforts. Through the MoU, Kawasaki will continue to contribute to global decarbonization efforts through the promotion and use of clean energy, hydrogen.
Contact