Strategic Collaboration Agreement Signed for the Establishment of International Liquefied Hydrogen Supply Chains with ADNOC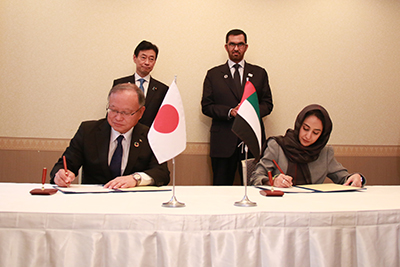 Tokyo, April 17, 2023 — Kawasaki Heavy Industries, Ltd. announced today that it has signed a Strategic Collaboration Agreement (SCA) with ADNOC (headquartered in Abu Dhabi, UAE), a provider of lower-carbon intensity energy, to explore potential opportunities for the establishment of international liquefied hydrogen supply chains.
Amidst the accelerating global efforts towards decarbonization, hydrogen is facing growing expectations as a next generation source of energy as no carbon dioxide is emitted during combustion. Through the SCA, both companies will jointly cooperate to explore opportunities in the world scale production of hydrogen, hydrogen liquefaction and associated infrastructure, and maritime transportation of hydrogen to potential offtakers with the aim of establishing a commercial-scale international hydrogen supply chain in the future.
In Kawasaki's Group Vision 2030, which describes the company's future vision for 2030, "Energy and Environmental Solutions" has been specified as one of the areas it will focus its efforts. Through the SCA, the company will continue to contribute to global decarbonization efforts through the promotion and use of clean energy, hydrogen.
Contact