Unveil of New R211 Subway Cars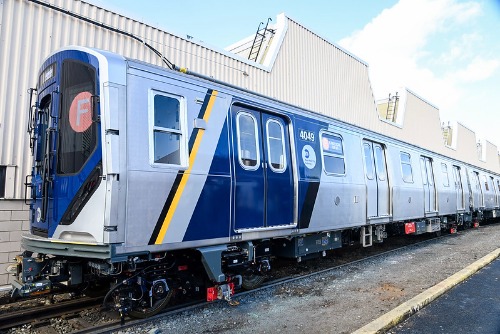 On February 3, 2023, Metropolitan Transportation Authority (MTA) showcased the R211 open gangway subway train at the Coney Island Yard in Brooklyn, New York. The open gangway cars are a new design approach for New York City Transit (NYCT) subway cars, which feature soft, accordion-like walls that connect the cars, allowing riders to move more freely between the trains.
Kawasaki has received orders for a total of 1,175 R211 cars comprising a Base contract of 535 cars, as well as an additional 640 cars under Option 1. The open gangway cars are part of the Base Contract, under which twenty (20) open gangway cars are being built and tested. MTA may execute the second option of up to an additional 437 cars to include the open gangway configuration, subject to successful testing of the test trains and other considerations.
The R211 subway car project contains multiple customer enhancement features. Jointly developed by NYCT and Kawasaki, it includes security cameras, additional accessible seating, digital displays that will provide more detailed station-specific information, brighter lighting and signage as a means to improve customer experience. Another feature of the R211 cars are the 58-inch wide door opening which are 8 inches wider than the existing NYCT cars. The wider doorways are designed to speed up boarding and are aimed to reduce passenger congestion by enhancing passenger flow.
Ever since the award of R62 subway car contract in 1982, Kawasaki has delivered subway cars for NYCT, jointly developing designs that feature state-of-the-art technology of the time to support the needs of the riding public. The R211 open gangway cars are a design concept newly introduced to the riders of New York City to enhance the customer experience. Kawasaki is honored to take part in the evolution of New York City subway cars and will continue our efforts to provide safe, reliable and technically advanced subway cars to the MTA and the people of New York.