Kawasaki Introduces Ninja ZX-4R Full-Fairing Four-Cylinder Supersport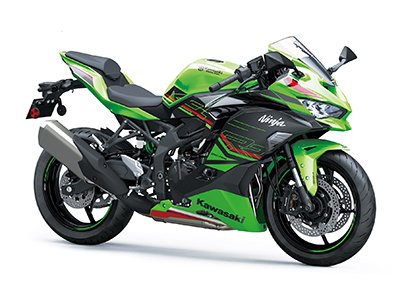 Ninja ZX-4RR



Kawasaki Motors, Ltd. has announced the launch of the new Ninja ZX-4R and its Ninja ZX-4R SE and Ninja ZX-4RR variants, all featuring a newly designed engine and frame. The model will be introduced in various countries beginning in February 2023.
The Ninja ZX-4R is features a high-output engine delivering an impressive 80 PS1. Equipping this engine in a lightweight, compact Ninja ZX-25R-based chassis results in excellent cornering performance and acceleration feel. When it is released, the Ninja ZX-4R will be the only fully-faired model in the 400cc class to offer an In-Line four-cylinder engine2, and its aggressive Ninja ZX family styling, premium features, and finely-tuned exhaust note are sure to excite riders.
Whether a seasoned rider or new to the joys of Supersport, Ninja ZX-4R riders will be able to experience the pure riding enjoyment of the "APEX PREDATOR" concept on both the street and track.
Kawasaki's goal is to enhance the value of the Kawasaki brand and to accelerate the sustainable growth of the Powersports & Engine business by expanding our lineup as we continue to introduce new models rooted in customer value.
Key Features
• Engine
New 399 cm3 liquid-cooled in-line four-cylinder DOHC engine
The Ninja ZX-4R's newly developed engine, based on technology from Kawasaki's Ninja ZX series supersport machines, delivers a maximum output of 57 kW (77 PS) and 59 kW (80 PS) when pressurized by Ram Air. The engine has been designed to combine strong low- and mid-range torque with ample power at high rpm and in a wide variety of riding situations from daily use to on-track sport riding.
Ram Air intake system
Equipped with Kawasaki's world-famous Ram Air system that improves intake efficiency and contributes to improved engine performance, the air intake is located in the center of the upper cowling, providing styling that is instantly recognizable as part of the Ninja ZX series. The large Ram Air duct passing to the left of the front fork is visible to the rider and stamped with "Ram Air" – a reminder of this machine's high performance.
High-revving exhaust sound
The ultra-high-revving engine, which reaches above 15,000 rpm, delivers an exhilarating exhaust sound that only a Kawasaki high-performance In-Line Four can offer.
• Chassis
Chassis that achieves excellent handling performance
With a chassis design inspired by Kawasaki's Ninja ZX-10RR World Superbike race machine, the Ninja ZX-4R features a trellis frame and long-style swingarm with an arched right arm, both made of high-tensile steel. The frame achieves an ideal front-rear weight distribution, along with an excellent balance of rigidity and flexibility, providing nimble handling and great rider feedback.
High-grade suspension
Showa's advanced SFF-BP front fork (Ninja ZX-4R SE and Ninja ZX-4RR models feature a preload adjustment mechanism) is featured, while the rear is equipped with Horizontal Back-link rear suspension system, offering the same progressive characteristics as the Ninja ZX-10R's rear suspension, resulting in the superb handling performance typical of Kawasaki's supersport models. Additionally, the Ninja ZX-4RR variant features the same type of Showa BFRC lite rear shock as the Ninja ZX-10R.
High-performance supersport brakes
Braking power is delivered via φ290mm semi-floating front twin discs and radial-mounted monobloc calipers, while the rear uses a φ220mm disc. The overall package delivers powerful braking force and excellent brake feel, response and power.
F120/R160 tyres
The F120/R160 tyre combination is designed to fit the Ninja ZX-4R's dynamic performance and enhances traction even at high speeds. The wide rear tyre also adds to the sporty looks.
• Design, Equipment
Aggressive Ninja ZX styling
The Ninja ZX-4R's aggressive Ninja styling exudes a fierce aura of restrained power and explosive action. Its high-grade appearance is also enhanced by the use of LEDs for all lighting, from its twin headlights to its taillight.
Integrated riding modes
Integrated riding modes that link KTRC (Kawasaki Traction Control) and Power Modes allow riders to easily select from four different modes—Sport, Road, Rain, and Rider (Manual)—to suit the riding conditions and his or her own riding style.
Dual direction Kawasaki Quick Shifter (KQS)
A dual direction Kawasaki Quick Shifter (KQS) enables clutchless shifting up/down for seamless acceleration and easy deceleration to make sporty riding even more enjoyable. *Available on the Ninja ZX-4R SE and Ninja ZX-4RR models only.
TFT color LCD instrument panel
The Ninja ZX-4R's instrument panel is equipped with a 4.3-inch full-digital color LCD screen. It integrates a Circuit Mode that displays lap times, gear position, and rpm above 10,000 in an easy-to-read manner. The Kawasaki RIDEOLOGY application can be used to connect to a smartphone for a variety of functions, including recording GPS route information and vehicle riding information.
Model variants:
In addition to the Ninja ZX-4R, the following two variants are available:
• Ninja ZX-4R SE:
This special edition model features original colors and graphics inspired by the machines of Kawasaki's factory racing team—the Kawasaki Racing Team (KRT)—as well as numerous accessories as standard equipment.
(Equipment)
-Dual direction KQS
-Smoked windshield
-USB power outlet
-Frame sliders

• Ninja ZX-4RR:
In addition to the original Kawasaki Racing Team-inspired colors and "RR" graphics, the rear suspension features Showa's BFRC lite, the same type used on the Ninja ZX-10R supersport model. This model variant is well-equipped for a sportier riding experience.
(Equipment)
-Dual direction KQS
Comparison of Ninja ZX-4R, Ninja ZX-4R SE and Ninja ZX-4RR
Part
Detail
Ninja ZX-4R
Ninja ZX-4R SE
Ninja ZX-4RR
Front Fork
SHOWA SFF-BP
〇
SHOWA SFF-BP
with Preload adjustment function
〇
〇
Rear Shock
SHOWA BFRC lite
〇
Equipment/
Accessory
Dual direction Kawasaki Quick Shifter (KQS)
Accessory
Standard Equipment
Standard Equipment
Smoked windshield
Accessory
Standard Equipment
Accessory
USB outlet
Accessory
Standard Equipment
Accessory
Frame Sliders
Accessory
Standard Equipment
Accessory
59kw (80PS), with Ram Air pressure. NOTE: The maximum power output varies depending on the market specification.
Current, as of February 2023
Contact