New York City Transit Places Orders for 640 Additional Subway Cars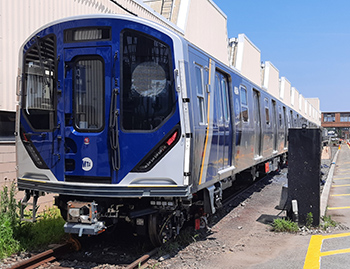 Kawasaki Rail Car Manufacturing Co., Ltd. (wholly-owned subsidiary of Kawasaki Heavy Industries, Ltd.) announced today that Kawasaki Rail Car, Inc. (KRC), its U.S. subsidiary based in Yonkers, New York, will receive an order for 640 additional new generation subway cars, known as the R211 series, from the Metropolitan Transportation Authority's (MTA) New York City Transit (NYCT *1). The order is worth approximately $1.7 billion (258 billion Japanese yen).
Kawasaki will manufacture the R211 subway cars at its facilities in Lincoln, Nebraska (Kawasaki Motors Manufacturing Corp., U.S.A.) and Yonkers, New York. The state-of-the-art Lincoln facility, established in 2001, will manufacture the car body structure and install interior equipment, while final assembly and function testing will be performed at the Lincoln Facility and the Yonkers Facility, established in 1989, in Yonkers, New York. The cars are scheduled to be delivered to NYCT from 2025 through 2026.
This order is in addition to the base order of 535 cars awarded in 2018, bringing the total number of R211 cars ordered to 1,175. The cumulative total of the contract value has now grown to $3.2 billion (467 billion Japanese yen).
In addition to this option contract, the contract also includes an additional option for up to 437 cars that NYCT may exercise bringing the total number of the cars to 1,612, with a total contract value of approximately $4.1 billion (597 billion Japanese yen). In the event all options are exercised, the R211 contract would be the largest rail car contract ever awarded to Kawasaki.
Kawasaki has successfully delivered over 2,200 cars to NYCT since receiving its initial order in 1982 for the R62 subway cars. The R211 subway cars are scheduled to replace NYCT's R46 cars and Staten Island Railway's fleet.
The R211 cars are being introduced as a part of NYCT's efforts to modernize and improve reliability and service to NYCT's customers. The cars will be equipped with security cameras, LED lighting, digital displays and wider doors, enabling passengers to enter and exit the trains more smoothly, thus reducing the time trains sit at the station.
Kawasaki has gained credibility through its past project performance, high technology and vehicle reliability, which all contributed to the successful award of the additional R211 cars.
Kawasaki will continue to build its credibility with its technological expertise by providing environmentally friendly modes of transportation to the United States and markets around the world.
Summary of the R211 cars
| | |
| --- | --- |
| 1. Car Type | Subway Car |
| 2. Measurement(s) | 18.44m (length) x 3.0m (width) x 3.665m (height) |
| 3. Carbody Material(s) | Stainless Steel |
| | |
| --- | --- |
| *1 | NYCT is a public agency that operates public transportation in New York City and is part of the Metropolitan Transportation Authority (MTA) which includes the Long Island Rail Road and Metro-North Commuter Railroad. |
Contact