Kawasaki Ships Gas Engine to Major Taiwanese Chemical Company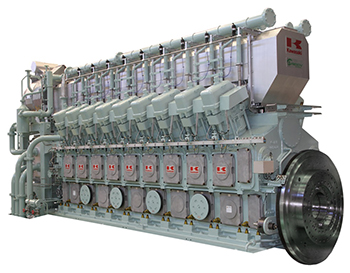 KG-18 Kawasaki Green Gas Engine



Tokyo, October 17, 2022 — Kawasaki Heavy Industries, Ltd. announced today that it has shipped one KG-18 Kawasaki Green Gas Engine to major Taiwanese chemical company Yee Fong Chemical & Industrial Co., Ltd. (Yee Fong) for use in an expansion project at their Taoyuan Plant.
Yee Fong was founded in 1950 and is a leading manufacturer of acidic and alkaline chemical products in Taiwan. To accommodate the increased production capacity of their Taoyuan Plant, Yee Fong is pursuing an expansion project that involves adding a new 8 MW class gas engine for captive power generation. The plant already utilizes a Kawasaki-made 48 MW class steam turbine and 8 MW class gas engine. Kawasaki earned this latest Kawasaki Green Gas Engine order thanks to high praise for the product's world-leading electrical efficiency, as well as high flexibility characterized by fast operation startup and shutdown, excellent product reliability, and outstanding after-sales services. The gas engine shipped to Yee Fong will be used for captive power generation to provide electric power and steam to plant facilities, and it is scheduled to start operation in late May 2023.
Kawasaki's strengths as a company include its full lineup of gas engines and gas turbines with high electrical efficiency, and other products optimized for a distributed approach to energy supply, as well as its ability to offer optimized energy supply systems via combined-cycle power plants that effectively bring together these various products. Moving forward, the company will continue its active pursuit of product and technology improvements as well as strengthening plant engineering capabilities in order to further expand its energy-related business on a global scale. Furthermore, Kawasaki will continue to pursue reliable energy supplies, environmental load reductions, and the realization of a carbon-neutral society, while striving to precisely address a diverse array of market needs.
Model
KG-18
Cylinder diameter / stroke (mm)
300×480
No. of cylinders
18
Electric output(kW)
50Hz/750rpm
7,800kW
60Hz/720rpm
7,500kW
Electrical efficiency (%)※1
49.0
NOx emissions (ppm)
Max. 200
Min. continuous operation load (%)
35※2
Turbocharger type
Single-stage turbocharger
Startup time from standstill to full load
Max. 10 min (5 min as option)※3
| | |
| --- | --- |
| *1 | Engine performance is based standard gas in Japan (40.6 MJ/Nm3, methane number = 69), and ISO 3046, and using our designated lubrication oil, and without auxiliary power. |
| *2 | 30~35% load can be operated with time limitation 95 hours, and 20~30% load also can be operated with time limitation 20 hours. |
| *3 | In case of option adopted |
Related Links
Kawasaki Green Gas Engines product webpage
https://global.kawasaki.com/en/energy/equipment/gas_engines/index.html
Special website on Kawasaki energy solutions
https://global.kawasaki.com/en/energy/gasengine_gasturbine/index.html
Contact