Kawasaki Delivers Fairing for H3 Launch Vehicle TF1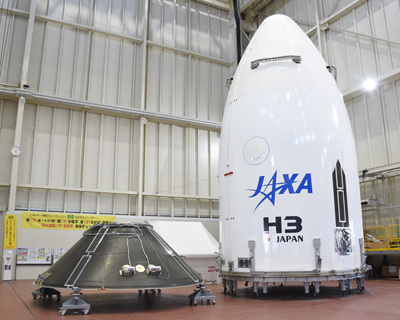 Tokyo, September 14, 2022 — Kawasaki Heavy Industries, Ltd. announced today that it has shipped a payload fairing*1 for the H3 Launch Vehicle Test Flight No. 1 (TF1) to the Tanegashima Space Center. The fairing was shipped from Harima Works, where it was assembled following design and manufacturing at Gifu Works.
The fairing will be delivered to Mitsubishi Heavy Industries, Ltd. at the Tanegashima Space Center, where it will be installed on the TF1. The Japan Aerospace Exploration Agency (JAXA) plans to load the Advanced Land Observing Satellite-3 (ALOS-3)*2 on the launch vehicle and is making preparations for launch.
Ever since Kawasaki delivered its first payload fairing in 1993 for the H-II launch vehicle, the company has developed and manufactured various payload fairings for a total of 61 launch vehicles, including 7 H-II, 45 H-IIA and 9 H-IIB launch vehicles. In addition, the company has delivered payload fairings for 6 Epsilon Launch Vehicles. Kawasaki is currently the only manufacturer of payload fairings in Japan, capable of accommodating a wide array of satellite-related needs.
Backed by a proven track record and outstanding technological capabilities, the company continues to play a vital role in Japan's satellite launch and space development operations today.
Overview of the H3 Launch Vehicle TF1 Payload Fairing
Type
Short type (S)
Length
Approx. 10.4 m
Diameter
Approx. 5.2 m
| | |
| --- | --- |
| *1 | A payload fairing is an enclosure installed at the tip of a launch vehicle that protects the satellite from aerodynamic heating, acoustic noise and vibrations during liftoff. After the launch vehicle leaves the earth's atmosphere, the fairing splits in two and is jettisoned, enabling the satellite to separate from the launch vehicle. The truncated conical component shown on the left side of the photograph above is a payload support structure for mounting the satellite inside the fairing. |
| *2 | Advanced Land Observing Satellite-3 (ALOS-3) is a successor of the optical mission of Advanced Land Observing Satellite (ALOS). ALOS-3 will continuously observe not only Japan but also global land areas to construct a system that can swiftly and timely acquire, process and distribute image data. ALOS-3 will be instrumental in providing with the nation and the local government data collected before and in times of disaster, which equips them to respond promptly. |
Related Links
■Kawasaki Online Media "ANSWERS": Payload Fairings for the H3 Launch Vehicle
https://answers.khi.co.jp/en/mobility/20210806e-01/
Contact