Kawasaki Launches Japan's First CRM Training Services Using VR Simulator to Facilitate Safer Helicopter Operations
Tokyo, September 7, 2022 — Kawasaki Heavy Industries, Ltd. announced today its launch of CRM*1 training services using a virtual reality (VR) simulator, intended to foster safer helicopter operations.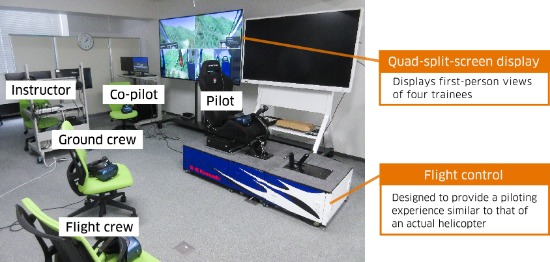 Training room
CRM training is intended to train not only the pilot, but also ground crew and other flight crew functioning in various capacities. The goals of Kawasaki's new training services include improving team communication, situational assessment skills and decision-making skills, which enable safer flight operations. Starting from FY2022, air rescue teams throughout Japan require their personnel to take part in CRM training once per year in order to improve helicopter operation safety.
Kawasaki has developed a training system that takes advantage of space-sharing technology unique to VR in order to provide effective CRM training at a lower cost than training using an actual helicopter. This represents the first such attempt in Japan, as no such CRM training involving ground crew and flight crew has ever been undertaken domestically. Following the launch of training services, the company plans to carry out regular feature and system upgrades to meet the needs of a wide range of users.
The advantages of Kawasaki's CRM training services are as follows:
| | |
| --- | --- |
| • | All training participants (the pilot, co-pilot and other flight crew) can use a shared VR space to achieve immersive, realistic-feeling training sessions |
| • | Equipment operations are similar to those of a real helicopter thanks to flight control equipment and an aircraft simulation program developed based on Kawasaki's know-how and expertise |
| • | Includes various simulated scenarios for situations that are difficult to train for using an actual helicopter, such as flights during poor weather conditions, nighttime flights, and accident situations |
| • | Trainees can review recorded audio and video of first-person views following training sessions |
Through helicopter manufacturing and training services, Kawasaki is contributing toward the realization of a world in which aircraft will be operated more safely and reliably.
CRM training in progress
CRM Training Process
1.
Dispatch call received
2.
Pre-flight briefing carried out, crew head to rescue location
3.
Crew search for and rescue person(s) in need of assistance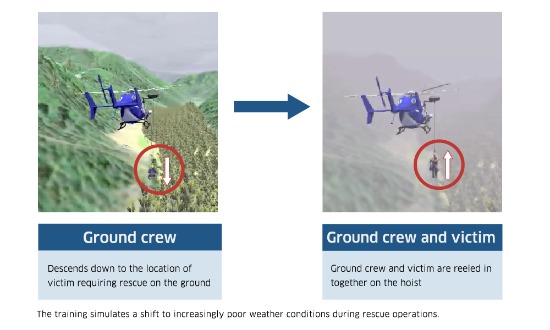 | | |
| --- | --- |
| 4. | Rescued person(s) transported to a hospital or handed over to a ground-based rescue team |
| 5. | Debriefing carried out |
Overview of CRM training for hoist rescue*2 operations
| | |
| --- | --- |
| *1 | Crew resource management. A concept developed in the aviation field that entails effective use of all available resources (human resources, information, etc.) to ensure safe aircraft operations. |
| *2 | A type of rescue operation for mountainous regions, bodies of water and other locations where the helicopter cannot land. The helicopter remains hovering as a hoist (a type of winch device) with a hook on the end has its cable extended to lower a rescue stretcher along with rescue crew down to the location of the victim. |
Contact