Kawasaki Successfully Completes Verification Test for In-factory Distribution Operation Automation Using an MUGV
March 28, 2022 — Kawasaki Heavy Industries, Ltd. announced today its successful completion of verification test for unmanned cargo transport operations within company-owned factory grounds using an MUGV
*1
developed with the goal of automating in-factory distribution. The test was carried out to verify the possibility of using MUGVs for unmanned, autonomous transport in place of human-operated trucks to transport motorcycle engines within Kawasaki's Akashi Works, for use in the motorcycle production line.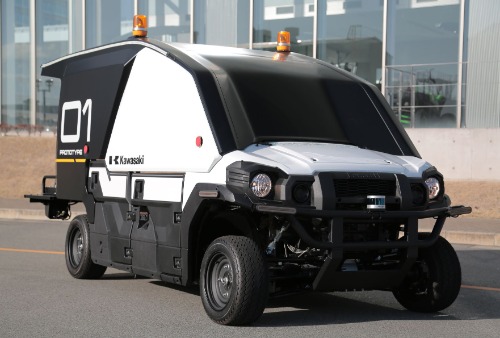 Overview of testing operations:
The verification test was carried out in March 2022 at Kawasaki's Akashi Works. The MUGV used was loaded with 15 engines for each trip and, via unmanned and autonomous travel, transported the engines over a distance of about 300 meters (about 1,000 feet) from the engine plant to the motorcycle assembly plant.
It is believed that the use of MUGVs in place of human-driven trucks to transport engines will improve operational efficiency at the facility.
Features of the Kawasaki-developed MUGV:
Uses a high-performance MULE™ outfitted with an unmanned, autonomous driving system
Does not require rails or any other physical guiding mechanism, meaning no additional installations are required on factory grounds upon vehicle introduction, and automated transport through even narrow passageways is possible
Travel routes can be easily changed, enabling flexible responses to delivery destination changes and production line changes based on production demands
An electric vehicle (EV) motor was used as the power unit for the test vehicle. The MUGV was fitted with a suspension system designed for travel on paved road surfaces, and a cargo carrying structure optimized for motorcycle engine transport was installed on the vehicle. In future MUGV applications, if the operating environment makes installation of EV charging facilities difficult or if off-road travel is required, the vehicle can be customized to meet operational needs through the inclusion of a gasoline-powered engine and other such modifications.
| | |
| --- | --- |
| Power unit | Engine-driven (ICEV*2) or motor-driven (EV) specifications |
| Suspension | Off-road design utilizing the strengths of the MULE™ vehicle, or on-road travel design |
| Superstructure | Seats for transporting human passengers or a carrier structure for transporting cargo |
In Kawasaki's Group Vision 2030, the company has specified three areas where it will focus its efforts: "A Safe and Secure Remotely-Connected Society," "Near-Future Mobility" and "Energy and Environmental Solutions." Among these, the company is pursuing MUGV development as part of "Near-Future Mobility" efforts. Utilizing knowledge and experience gained through this latest verification test, Kawasaki will pursue the development of MUGVs and other autonomous, unmanned transport systems in order to solve labor shortage problems in distribution operations, bolster operational efficiency, and contribute in other ways with the goal of solving a wide array of problems faced by society.
*1 Multi-use Unmanned Ground Vehicle
*2 Internal Combustion Engine Vehicle