Kawasaki ESG Data Book 2021 Issued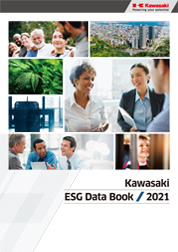 Kawasaki Heavy Industries, Ltd. has issued Kawasaki ESG Data Book 2021.
The ESG Data Book primarily provides disclosure of detailed non-financial information related to the Kawasaki Group's environmental (E), social (S) and governance (G) initiatives. In addition, more detailed information about our environmental initiatives is available in the Kawasaki Environmental Report.
We position the ESG Data Book as a tool for providing information and communicating with stakeholders.
We will continue our effort to improve the quality of our information disclosure.
Contact