Total Sales of PV Series Hydraulic Remote Control Valves for Construction Machinery Reach 10 Million Unit Milestone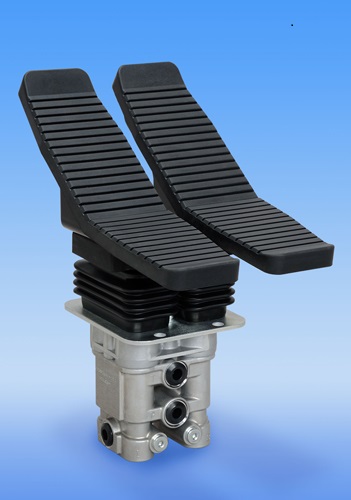 Tokyo, December 21, 2021 — Kawasaki Heavy Industries, Ltd. announced today that its sales of the PV Series hydraulic remote control valves (RCVs) have surpassed 10 million units.
Hydraulic RCVs are pressure-reducing valves that control the secondary pressure based on the lever angle and are used for levers and the travel pedals of excavators and mini excavators. Ever since production began in 1968, Kawasaki's hydraulic RCVs have enjoyed a large share of the market, with about 50% of the world's excavators and mini excavators being equipped with our products.
The PV Series offers excellent controllability and responsiveness, achieving accurate and smooth manipulation of construction machinery, as well as great durability. Launched in 1997, the Series has retained the top share of the global market for a long time, by accommodating the needs of the construction machinery sector and consistently supplying high-quality products.
The use of ICT/IoT has been advancing in the construction machinery sector in order to reduce manpower needs and improve the working environment at construction sites. In response to this trend, Kawasaki, in addition to hydraulic RCVs, has begun supplying electronic control units for hydraulic equipment. We are committed to improving people's quality of life through our global hydraulic business, by improving the safety of construction sites, such as infrastructure, thereby enhancing productivity.
Relevant links
Hydraulic pilot valves, electric remote control units
https://global.kawasaki.com/en/industrial_equipment/hydraulic/valves/index.html
Contact