Liquefied Hydrogen Carrier -SUISO FRONTIER- Receives Classification from Nippon Kaiji Kyokai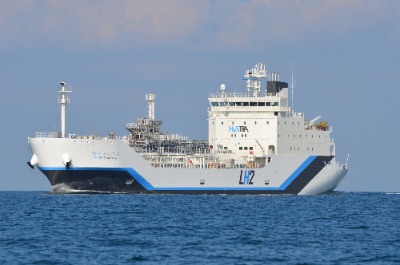 world's first liquefied hydrogen carrier -the SUISO FRONTIER
Kawasaki Heavy Industries, Ltd. announced today that its world's first liquefied hydrogen carrier -the SUISO FRONTIER- has received a classification from Nippon Kaiji Kyokai (ClassNK), recognizing that it complies with International Maritime Organisation(IMO) standards.
The SUISO FRONTIER can carry 75 tonnes of liquefied hydrogen in one trip. The liquefied hydrogen is produced by cooling gaseous hydrogen to minus 253°C therefore reducing its volume to 1/800.
The vessel was inspected for its hull structure, machinery, onboard equipment and materials and more, in accordance with its class rules and the requirements for the safe transport of hydrogen by sea, formulated by ClassNK, based on the provisional recommendations of IMO. The vessel was then added to ClassNK's register on 3 December.
Hydrogen is a clean energy source that emits no CO
2
when burned, and when used as a fuel it can generate power, cars, motorcycles, ships and aircrafts. Various initiatives are underway in many countries to build a supply chain for the realization of a hydrogen society. In order to realize a future in which hydrogen is used as commonly as oil and natural gas, Kawasaki aims to build a supply chain that produces, stores, transports and uses hydrogen in cooperation with various partners.