Kawasaki Hydrogen Aircraft Core Technology Development Project Selected for NEDO Green Innovation Fund Support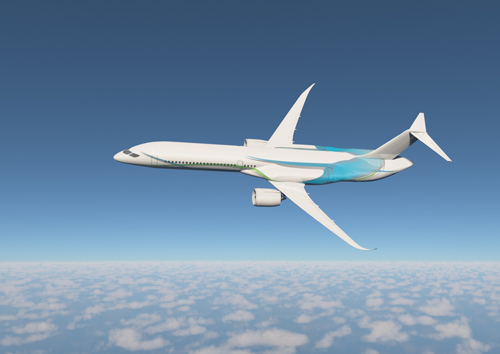 Simulated appearance of a next-generation aircraft
Tokyo, November 5, 2021 — Kawasaki Heavy Industries, Ltd. announced today the selection of its hydrogen-powered aircraft core technology development project as a "next-generation aircraft development project" to receive support under the New Energy and Industrial Technology Development Organization (NEDO) Green Innovation Fund.*
In line with the "Green Growth Strategy Through Achieving Carbon Neutrality in 2050" established on December 25, 2020 by the Japanese Ministry of Economy, Trade and Industry (METI) and other government ministries and agencies, Kawasaki's project aims to transform industrial structures, society, and the economy through proactive global warming countermeasures in order to help foster positive economic and environmental cycles that lead to growth for the future.
Kawasaki's project centers around three research areas: hydrogen aircraft engine combustor and system technology development, liquefied hydrogen fuel storage tank development, and hydrogen-aircraft architecture concept research. With these three project focuses, the company is pursuing development of core airframe and engine technologies that are necessary to achieve the next-generation aircraft, which will play a vital role in the achievement of a carbon-neutral society. Kawasaki plans to spend 10 years developing core technologies and bringing them together in an integrated system, after which the company will carry out verification-purpose ground tests in 2030.
Utilizing its experience in aircraft development and overall expertise in the area of hydrogen-related technologies, Kawasaki is developing core hydrogen aircraft technologies that enable CO2 emission reductions. Meanwhile, the company is also pursuing other hydrogen-related projects, including verification testing for purposes of commercializing liquefied hydrogen supply chains—another project selected for NEDO support. These efforts are intended to help achieve carbon neutrality by the year 2050.
| | |
| --- | --- |
| * | A fund that provides support for a 10-year period, covering everything from research and development to verification testing and deployment in society, for companies and other organizations working to address business challenges with the aim of helping Japan achieve carbon neutrality by 2050. Fourteen fields are eligible for support, including energy-related industries (which include hydrogen and ammonia fuel production), the transport and manufacturing industries, and home- and office-related industries. |
Contact