Naming Ceremony Held for "CRYSTAL ASTERIA", Japan's First LPG Powered LPG Carrier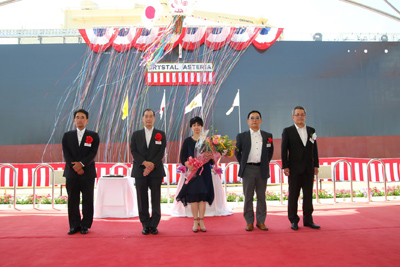 Scene from naming ceremony
Kawasaki Heavy Industries announced that it has held a naming ceremony for the LPG (liquefied petroleum gas) powered LPG carrier "CRYSTAL ASTERIA" (Kawasaki hull No. 1748) at Sakaide Works. The vessel is being built for KUMIAI NAVIGATION (PTE) LTD.
At the naming ceremony, Senior Executive Vice President Yagi of Astomos Energy Corporation named the vessel "CRYSTAL ASTERIA," and his wife Yoshiko performed the ceremonial cord cutting.
As the International Maritime Organization (IMO) is proceeding to strengthen its regulations on exhaust-gas emissions, LPG fuel is attracting attention as a clean alternative to heavy fuel oil, and the use of LPG as a fuel is accelerating, particularly in the LPG carrier market. This vessel is Japan's first LPG dual-fuel LPG carrier that can operate on both LPG and low-sulfur fuel oil, and is scheduled to be delivered within the year 2021.
Our company's electronically controlled LPG-injection diesel engine for marine application (ME-LGIP engine), the "Kawasaki-MAN B&W 7S60ME-C10.5-LGIP," is employed as its main engine.
By using LPG as fuel, emissions of substances such as carbon dioxide and sulfur oxides in exhaust-gases can be reduced in comparison to the use of heavy fuel oil, and compliance can be achieved with the SOx (sulfur oxide) regulations*1 and EEDI Phase 3*2 required starting with vessels contracted for construction in 2022 and later.
Vessels powered by liquefied gas instead of heavy fuel oil have been progressively introduced throughout the world as an effective measure in response to exhaust-gas emission regulations for vessels. This vessel draws on the expertise that our group has gained in the past through the construction of LPG carriers as well as liquefied natural gas (LNG) carriers and LNG powered vessels.
We will continue to contribute to the realization of a low-carbon and decarbonized society by developing and providing environment-friendly marine technologies. These include various commercial vessels that comply with environmental regulations such as LPG powered LPG carriers, as well as carriers for liquefied hydrogen which is attracting attention as a next-generation energy source.
Principal Particulars
LPG cargo tank capacity
84,229 m3
Length overall
229.90 m
Molded breadth
37.20 m
Molded depth
21.90 m
Main engine
Kawasaki-MAN B&W 7S60ME-C10.5-LGIP
*1
SOx emission regulations:
Since January 2015, SOx emission content regulations specifying a fuel sulfur content of 0.1% or less have been enacted in the Emission Control Areas (ECA) of Europe and America. Also, beginning from January 2020, vessels traveling in marine areas in all other parts of the world are required to use fuels with a fuel sulfur content of 0.5% or less, or to use alternative equipment that can reduce the SOx content from exhaust-gases to an equivalent level.
*2
EEDI (Energy Efficiency Design Index) regulation:
An international regulation that enforces compliance of newly-constructed vessels with energy-saving performance regulation values using the Energy Efficiency Design Index (EEDI), which is defined as the number of grams of CO2 emitted when transporting 1 ton of cargo over 1 mile. Required EEDI regulation values are made stricter in phases according to the construction contract date and delivery date. For some types of vessels such as large LPG carriers and LNG (liquefied natural gas) carriers, compliance with Phase 3 (30% reduction in CO2 emissions from standard values) is required for vessels contracted for construction in 2022 and later.
Contact