Remote Track Monitoring Services Launched in North America
Tokyo, May 31, 2021,- Kawasaki Heavy Industries, Ltd. announced today that it has launched remote track monitoring services with information and communication technology (ICT) in North America for the first time. Kawasaki has received an order for the services from one of the North American Class 1 railroads. In this contract, locomotives will be equipped with monitoring devices, and Kawasaki will provide remote track monitoring service to support track maintenance.
Daily inspections are essential for rail infrastructure. As for track inspections, soundness is confirmed and maintenance plan is developed through inspection by dedicated track inspection cars and visual inspection by inspector.
In Kawasaki's services, rolling stocks are equipped with monitoring devices, such as sensors and cameras that can constantly measure and analyze parameters of tracks during normal service operations. In the event that the devices detect irregularity of tracks, a notification is timely sent. Track Maintenance support may also be provided by predicting proper maintenance timing based on accumulated data. Collecting data during normal service operations may decrease the frequency of inspections by dedicated track inspection cars and visual inspections by inspector, and contribute not only to manpower and energy saving, but also to cost saving.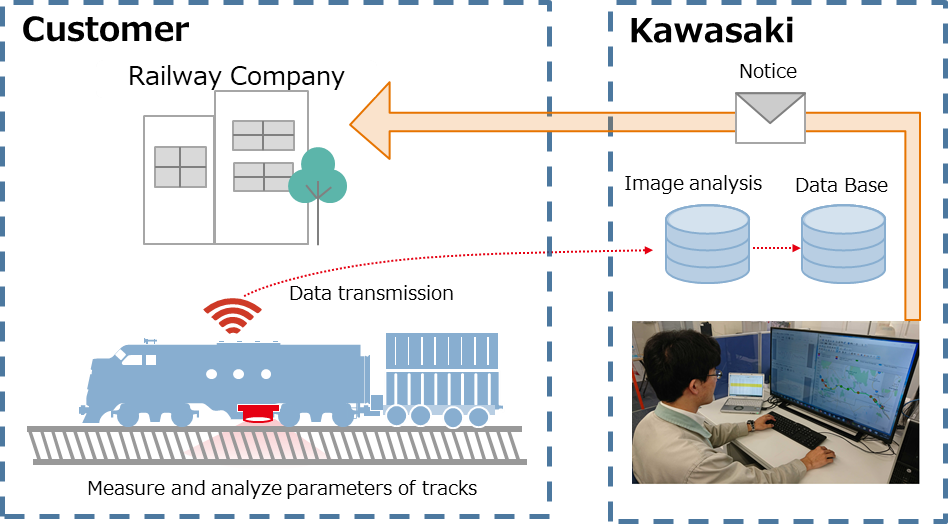 Image of remote track monitoring services
Kawasaki will continue to provide valuable services with ICT, including condition monitoring business as well as production and sales of rolling stocks, and will also contribute to the development of railway mobility.
■Data provided through Remote track monitoring services
5 items in track irregularity (gauge, profile, alignment, cross level, twist)
Contact