Kawasaki Completes Fuji City shin kankyou clean center Waste-to-Energy Facility and Commences Operation and Management
Tokyo, October 26, 2020 — Kawasaki Heavy Industries, Ltd. announced today completion of the Fuji City
shin kankyou
clean center Waste-to-Energy facility in Fuji City, Shizuoka Prefecture, as well as commencement of a 20-year period of facility operation and management by a joint venture organization involving Kawasaki and Shinki Corporation.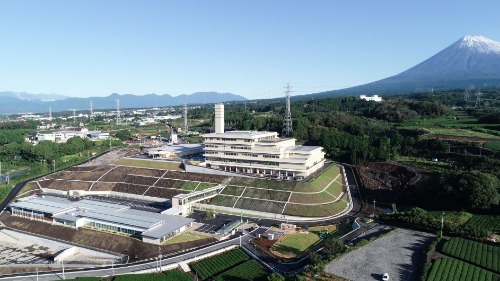 Appearance of the Fuji City shin kankyou clean center
The recently completed Waste-to-Energy facility is capable of treatment 250 tons of waste per day using two incinerators, each with a capacity of 125 tons every 24 hours. It adopts the Kawasaki Advanced Stoker System, which utilizes the company's proprietary Parallel-flow-type incinerators to burn waste completely with small amounts of air. Furthermore, this environmentally friendly facility is equipped with bag filters, selective catalytic reactor for denitrification, exhaust gas recirculation system and other advanced exhaust gas treatment systems designed to reduce emissions of substances designated as hazardous under national regulations, such as dioxins and nitrogen oxides (NOx), to levels far below specified standard values.
On top of that, each of the incinerators combines high-temperature, high-pressure boilers and a condensing steam turbine for high-efficiency electric power generation (maximum output: 6,800 kW), which supplies all the electricity the facility needs with surplus power left over to sell. Furthermore, steam extracted from the turbine is used to heat water used by the Recycling Promotion Building's "Fuji Kaguya no Yu" public bath facility. In addition to the Waste-to-Energy facility, the Center has a crushing facility for pruned branches, and the woodchips and other products created through crushing are provided free of charge to residents of the local community.
The Kawasaki–Shinki joint venture operates based on the core concept of being "a resource recycling park that promises safe and trustworthy operations" with the goal of achieving harmony between facilities and the surrounding environment (including Mount Fuji) as well as local communities. To these ends, overall operations revolve around multiple facilities including the Factory Building, Resource Recovery Building, Recycling Promotion Building,*1 Outdoor Education Zone and Forest Environmental Creation Zone, among others. Waste-to-Energy facilities come equipped with leading-edge Smart-ACC®*2 technology as well as the KEEPER remote monitoring system*3 for operational support, WtE-SAURS® operation planning software*4 which provides year-round operation planning optimization support, and other innovations in pursuit of stable and reliable facility operations.
Kawasaki boasts a wide range of Waste-to-Energy technologies in addition to the stoker incinerator and has been involved in the construction and operation of numerous municipal solid waste treatment facilities throughout Japan for more than half a century. The company will continue to develop innovations and deliver products in response to increasingly diverse environmental problems and societal needs.
*1 The Recycling Promotion Building is operated by a separate designated management organization (not by Kawasaki–Shinki).
*2 Smart Automatic Combustion Control: Proprietary, sophisticated combustion control technology by Kawasaki, designed to achieve more efficient and reliable power generation than conventional waste treatment facilities.
*3 KEEPER: A system through which highly experienced technicians at a remote support center separate from the Waste-to-Energy facilities monitor operating conditions and provide support.
*4 WtE-SAURS: A system that automatically creates operation plans to maximize revenue from selling electricity and helps boost the facility's value as a regional energy center.
Overview of the Fuji City shin kankyou clean center Construction and Operation Project
Construction
Client

Fuji City

Contractor

Joint venture between Kawasaki, Ishiigumi and Idegumi for the project

Location

676, Obuchi, Fuji-City, Shizuoka Prefecture

Facilities

Waste-to-Energy facility: Stoker incinerators (250 tons/day; 125 tons / 24 hours × 2 incinerators)

Steam turbine generator (6,800 kW × 1 unit)

Crushing facility: 2.72 tons/day for tree and plant trimmings

Contract sum

22,680,000,000 yen (including consumption tax; sum as of contract signing in 2017)
Operation and Management
| | |
| --- | --- |
| Client | Fuji City |
| Contractor | Joint venture between Kawasaki and Shinki Corporation for the project |
| Operation period | October 1, 2020 to September 30, 2040 (20 years) |
| Contract sum | 14,580,000,000 yen (including consumption tax; sum as of contract signing in 2017) |