Kawasaki Receives Order for Six Green Gas Engines from OEPC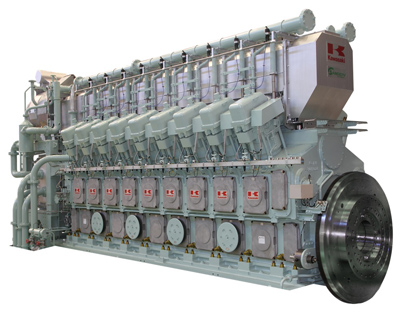 KG-18-V Kawasaki Green Gas Engine
Tokyo, September 23, 2020 — Kawasaki Heavy Industries, Ltd. announced today its receipt of an order from The Okinawa Electric Power Company, Incorporated (OEPC) for 45 MW class gas-engine power generation equipment to be used at OEPC's Makiminato Thermal Power plant in Urasoe City, Okinawa Prefecture. The power generation equipment will comprise six in-house-developed Kawasaki Green Gas Engines offering world-leading electrical efficiency and 7.5 MW output. The equipment is scheduled to commence operations in 2024 as a balancing energy and capacity* facility.
Kawasaki Green Gas Engines offer outstanding electrical efficiency and environmental performance, and efficient utilization of multiple engines enables flexible operations and improvements to operation rates.
Many expect small- and medium-capacity distributed energy sources utilizing gas engines to play pivotal roles as balancing energy and capacity facility in overall energy-supply systems thanks to high electrical efficiency and load-regulating capabilities in actual operations. Kawasaki earned this latest order thanks to high praise for these advantages in its products as well as the company's experience in installation and operation of such facilities.
As renewable energy spreads and demand both in Japan and abroad grows for diversification of power sources, Kawasaki takes full consideration of individual customer needs while continuing to leverage the advantages offered by its wide array of energy products, pursuing increased orders and sales for distributed power systems, and actively expanding its energy and environmental business efforts.


* Balancing energy and capacity facility:
Power sources required by standard power transmission and distribution companies in order to provide ancillary services for their supply networks (frequency control, adjustments in response to supply-and-demand balance, and grid stabilization operations such as power flow and voltage adjustments).
More information on Kawasaki Green Gas Engines:
Contact