Naming Ceremony Held for "KAGUYA," Japan's First LNG Bunkering Vessel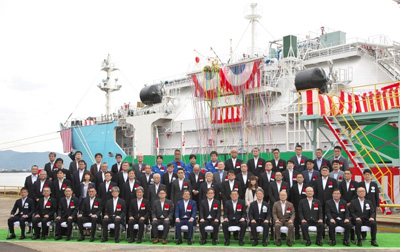 Kawasaki Heavy Industries, Ltd. announced that it has held a naming ceremony for the LNG (liquefied natural gas) bunkering vessel "KAGUYA" (Kawasaki hull No.1744) at Sakaide Works. The vessel is being built for Central LNG Shipping Japan Corporation (a corporate joint venture owned by Nippon Yusen Kaisha, Kawasaki Kisen Kaisha, Ltd., JERA Co., Inc. and Toyota Tsusho Corporation).
Vessels fueled by LNG instead of heavy fuel oil have been progressively introduced throughout the world as an effective measure in response to exhaust-gas emission regulations for vessels, which have been tightened since 2020. "KAGUYA" will be Japan's first LNG bunkering vessel outfitted with facilities for supplying LNG-fueled ships with LNG while at sea.
At the naming ceremony, Hitoshi Nagasawa, President, Representative Director of Nippon Yusen Kaisha, and Yukikazu Myochin, Representative Director, President and CEO of Kawasaki Kisen Kaisha, Ltd., named the vessel "KAGUYA". Following this, Sunao Nakamura, Managing Executive Officer of JERA Co., Inc., and Toshiro Hidaka, CEO for Machinery, Energy & Project Division of Toyota Tsusho Corporation performed the ceremonial cord cutting.
The vessel will be delivered after various testing using actual LNG. Once construction is complete, it will be based at JERA Kawagoe Thermal Power Station and used to supply LNG fuel to LNG-fueled ships in the Chubu region (Central Japan).
An overview of the vessel is as follows:
Principal Particulars
LNG loading capacity
3,500 m3
Gross tonnage
4,044
Overall length
81.70 m
Molded breadth
18.00 m
Molded depth
7.80 m
Planned molded draft
4.80 m
Kawasaki will continue to actively work on the construction of various types of liquefied gas vessels including LNG, which is expected to see an increase in demand as a clean form of energy.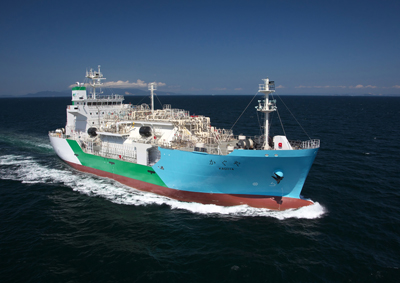 Contact