Three-wheeled Electric Vehicle Selected as Top Pick from In-house Business Idea Recruiting at Kawasaki— Safe, Comfortable Mobility That Can Be Used Easily by Anyone, Anytime
noslisu three-wheeled electric vehicle
Tokyo, September10, 2020 — Kawasaki Heavy Industries, Ltd. announced today its selection of the noslisu three-wheeled electric vehicle as its top choice from submissions made in-house for the first project under the "Business Idea Challenge" Program. The noslisu vehicle was selected from among roughly 100 ideas submitted through this program, and Kawasaki is moving forward from the business model hypothesis formulation and verification phases to marketing and other concrete efforts aimed at commercialization.
The noslisu three-wheeled electric vehicle is designed to provide safe, comfortable mobility that can be easily used anytime by any member of society, and it was developed with the goal of enriching people's daily lives through these advantages. The vehicle will be available in two models with different operation modes — fully electric mode and electric-assist bicycle mode — to help people get around in regions where public transport is limited or unavailable, and serve the needs of delivery service employees, elderly customers and a diverse array of other users. Furthermore, its unique dual-front-wheel design provides high stability and enables carrying of larger loads. As society focuses on reducing environmental impact and becomes increasingly interested in compact mobility products, the noslisu serves as a new kind of transport for users.
Features
Users can select from an electric vehicle model, which requires no pedal operation to propel the vehicle (standard motor vehicle license required), and an electric-assist bicycle model.
The noslisu features a stable three-wheel design as well as a proprietary leaning mechanism (patent pending) which provides greater maneuverability and utilizes compact mobility technologies developed through Kawasaki's motorcycle business operations. The result is a highly stable vehicle that delivers a smooth ride with minimal risk of falls. Moreover, the noslisu remains standing on its own with or without a passenger, so there is no need to prop it up with a kickstand.
A large-capacity, low-positioned cargo rack is installed between the two front wheels, enabling loading of items without upsetting the vehicle's center of balance and thus ensuring safe travel.
The noslisu is designed not only for general consumers, but also for delivery service operations, public transportation and other applications carried out by corporate customers. In addition to product sales, developers plan on pursuing usages in vehicle sharing services, fintech and a wide range of other areas to promote the product's spread throughout society. Kawasaki plans to carry out promotional events including test rides starting in the latter half of FY 2020, conduct market surveys and otherwise pursue dialogue with potential users to better convey user benefits, and release the product for purchase in FY 2022.
Comment from Project Leader Hiroshi Ishii
"My initial inspiration for the noslisu was an elderly individual I met while walking around town, who told me that they couldn't find an ideal vehicle to use if they needed to suddenly rush out and help a family member for some reason. This gave me the idea of using Kawasaki's knowledge and experience in motorcycles to develop a product that would make a lot of people happy. Moving forward, I will listen to and incorporate customer feedback in order to achieve mobility products that prove useful in the daily lives of people throughout society."
noslisu three-wheeled electric vehicle website: https://noslisu.jp/
"Business Idea Challenge" In-house Idea Recruiting Program
Business Idea Challenge was launched in April 2020 with the goals of further accelerating open innovation efforts and discovering and utilizing dormant ideas from Kawasaki personnel. This program is used to gather wide-ranging business idea submissions, not limited to existing product lines and business areas and in ways that utilize the skills and strengths of idea applicants and the company overall, in order to better adapt to rapidly changing market environments and customer needs. The program also promotes joint ventures with startups, large corporations and other companies as needed to create a diverse range of new products and business ventures. Rapid, short-term, repeated planning and testing operations are carried out using an agile approach that enables both efficient and fast creation of new value. Additionally, education and training in financial accounting, management strategy and other fields required for building business models are provided to idea submitters with the goal of fostering stronger human resources and thus enabling sustained growth for the company overall.
Basic Philosophy: Using Your Ideas to Change Society and the Company
| | |
| --- | --- |
| - | Discover dormant ideas and passions at Kawasaki |
| - | Call for ideas that can change the world and also change the very foundations of Kawasaki's business approaches |
| - | Encourage employees to pursue ideas with an in-house entrepreneurial mindset, resolve and a sense of personal responsibility |
| - | Cultivate a company culture of continual new-idea conception and active discussion |
Program Overview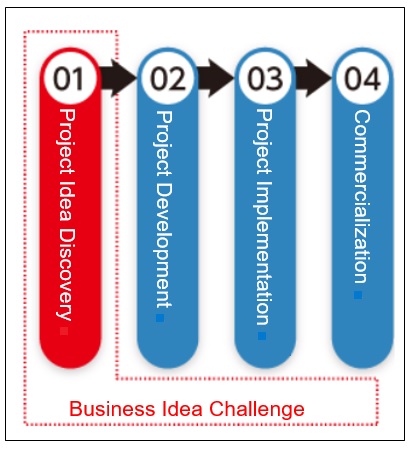 | | |
| --- | --- |
| - | Carry out proof-of-concept (POC) verification for the idea as a hypothetical in-house venture |
| - | Create a business model hypothesis and verify it using prototypes and other such means |
| - | Verify customer needs based on a market-oriented approach, and flexibly implement changes to products and services as necessary |
| - | Pursue collaborations with external organizations as necessary |
| - | Make investment decisions at each phase gate and pursue commercialization in phases |
Contact