Kawasaki Receives Order for BK117 C-2 Helicopter from Aero Asahi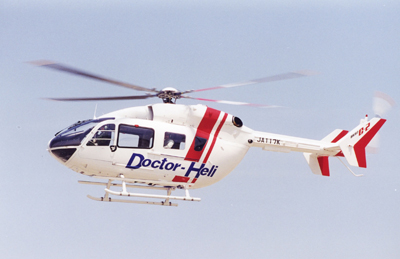 Tokyo, July 20, 2020 — Kawasaki Heavy Industries, Ltd. announced today its receipt of an order for its BK117 C-2 helicopter from Aero Asahi Corporation. The new aircraft is intended for use in emergency medical services.
Developed jointly by Kawasaki and European helicopter manufacturer Airbus Helicopters, the Kawasaki BK117 is the first domestically manufactured, medium-sized, twin-engine helicopter to be granted type certification. One unique feature of the BK117 is its large clamshell doors at the rear which enable easy loading and unloading of stretchers, equipment and so forth. Furthermore, it has a spacious cabin, compact overall design, and excellent safety performance and mobility, which have earned this helicopter high marks. In addition to emergency medical services, the BK117 is used around the world in a wide range of other applications including personnel and cargo transport, law enforcement, firefighting, disaster relief and broadcasting.
Following delivery of the first model in 1983, the BK117 has been continually improved over the years, and thanks to the aircraft's outstanding technological strengths and high reliability, Kawasaki has successfully delivered 179 units in total for the BK117 series as of July 20, 2020, and more than 1,600 worldwide with deliveries of Airbus Helicopters combined.
Moving forward, Kawasaki will continue making performance improvements to the BK117 helicopter series, and developing new equipment and components for various applications. Furthermore, Kawasaki will leverage the strong customer trust fostered through successful deliveries in the past, as well as the company's comprehensive customer support system encompassing everything from development to manufacturing, sales and after-sales services, in the pursuit of further business around the world.
Specifications for the Kawasaki BK 117 C-2
Length
13.03 m
Width
1.73 m (body)
Height
3.96 m
Capacity
11 (maximum number of seats)
Maximum Take-Off Weight
3,585 kg
Cruise speed
Approx. 246 km/h
Cruising Range
675 km (standard tank)
Primary equipment
EMS kit* and others
| | |
| --- | --- |
| * | The emergency medical services (EMS) kit includes unique medevac features like a special cabin floor, a stretcher, seats for a doctor, nurse as well as a friend or family member of the patient, a wall-mounted rack for medical supplies, ceiling and wall rails, a forward-mounted medical cabinet, lights, plus a dedicated power supply unit for medical equipment. |
Related Links
■Special Site: Multipurpose Helicopter BK117
https://answers.khi.co.jp/en/archive/bk117/
■Kawasaki Online Media "ANSWERS": Immediate Transport of Physician to an Emergency Behind-the-Scenes Stories of EMS Helicopters Saving Lives
https://answers.khi.co.jp/en/mobility/20190731e-03/
Contact