Successful test flight of large hybrid drone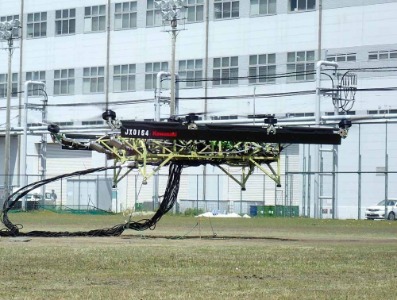 A large hybrid drone, being developed by Kawasaki Heavy Industries, has successfully hovered.
The test model measures about 7m long, 5m wide and 2m tall, and the purpose is to test its technical possibility of a payload capacity of over 200kg and a cruising range of over 100km, and further, to evaluate the product marketability as a "flying pickup truck". It has 8 motor propellers powered by electricity generated by three of our high-performance Ninja ZX-10R motorcycle engines.
Unlike regular drones that rely on battery power, this large hybrid drone uses power generated by engines, enabling it to maintain high output for a long time. Transportation of goods for short to medium-distances via helicopter tends to be expensive, thus this large drone is positioned as a low-cost aerial goods-transportation method, filling the gap between helicopters and small drones.
From concept development to design and production, the test model was completed by the Motorcycle & Engine Company, with the cooperation of the Aerospace Systems Company and the Technology Development HQ, with the aim of confirming the feasibility of the hybrid system.