Automatic Body Temperature Checking System Using Kawasaki Robot Installed at Kobe Maritime Museum and Kawasaki Good Times World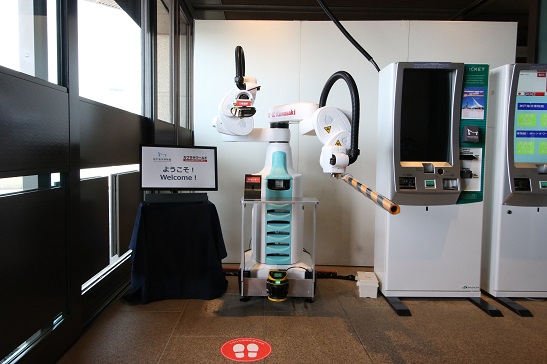 Tokyo, June 2, 2020 — Kawasaki Heavy Industries, Ltd. announced today that a newly-developed automatic body temperature checking system using its duAro2, a dual-arm SCARA (Selective Compliance Assembly Robot Arm) robot capable of safely working together with humans, has been installed at the Kobe Maritime Museum and Kawasaki Good Times World. In order to help prevent the spread of the 2019 novel coronavirus (COVID-19), both facilities were temporarily closed to the public from March 2 onward. Following their reopening today, the facilities have begun checking the body temperatures of all incoming visitors in order to ensure both visitor and employee safety.
The automatic body temperature checking system uses a dual-arm robot equipped with a non-contact temperature measurement sensor in its right hand. As each visitor enters, they hover their hand over an operation-start sensor, then position their forehead near the temperature measurement sensor to have their body temperature checked. If the visitor's temperature is at or below the preset maximum acceptable temperature, the robot indicates that the visitor may enter by removing the bar-type barrier held in its left hand. However, if the visitor's temperature exceeds the acceptable maximum, the bar remains in place and a staff member is called to the entrance. Because temperature checks are carried out using sensors only, without any contact between employees and visitors, this approach helps prevent the further spread of COVID-19.
The duAro2 is one of the duAro series of Kawasaki robots designed to safely collaborate with and work alongside humans. These highly practical robots can learn through simple direct teaching and are therefore used in a wide variety of situations and tasks. For purposes of safety, the surface material on duAro robots' arms is soft, and even if a robot does come into contact with a human worker or user during operation the collision will be detected and the robot's movements halted.
Following the spread of COVID-19 throughout our society, it has become necessary to reduce direct contact between people, which is why robots are expected to play even bigger roles in our lives. Kawasaki has leveraged the synergies attained between its robotics technologies and technologies from its diverse array of other business divisions to develop this automatic temperature checking system as an infection prevention measure, and it will continue to do so in the medical field and many other areas, all in pursuit of solutions to the problems and challenges faced by society.
Reference
About Kawasaki Good Times World
Kawasaki Good Times World is a Kawasaki Heavy Industries Group corporate museum located inside the Kobe Maritime Museum. First opened in May 17, 2006, Kawasaki Good Times World was created as a place for visitors to experience the wonders of technology and fascinations of the manufacturing world as they interact with Kawasaki's products in fun and informative ways.
About duAro Collaborative Dual-arm SCARA Robots
The duAro series are Kawasaki's first dual-arm SCARA robots designed to work safely together with humans. They are capable of accurately re-creating the movements of both human arms and can easily be installed in a space the same size as one human worker to carry out tasks in their place. They were made with thoroughgoing ease of use in mind and have simple teaching functions for greater practicality. Furthermore, an optional feature enables separation of the arm unit and its controller, making it easier to install duAro robots in ways optimized to the customer's worksite layout. The robots also feature collision detection functions and other safety features so that they can be positioned directly next to and work together with humans without fear of injury or accident. Even in industries such as electrical products, electronics, and food products where automation has been considered difficult due to variations in preparation times and production amounts as well as other factors, duAro robots are contributing to increased automation.
https://robotics.kawasaki.com/en1/products/robots/dual-arm-scara/index.html?language_id=1
Contact