Super-high-speed Passenger Ship Seven Island Yui Launches
Tokyo, March 26, 2020 — Kawasaki Heavy Industries, Ltd. announced today its official naming and launch of the Seven Island Yui super-high-speed passenger ship (Kawasaki Jetfoil), which is being built at Kobe Works. Representatives from joint owners Tokai Kisen, Co., Ltd. and the Japan Railway Construction, Transport and Technology Agency (JRTT) attended the ceremony. Following outfitting at Kobe Works, the vessel will be delivered in June 2020, after which it is slated for use primarily on routes connecting Tokyo's Takeshiba Passenger Ship Terminal and the Izu Islands.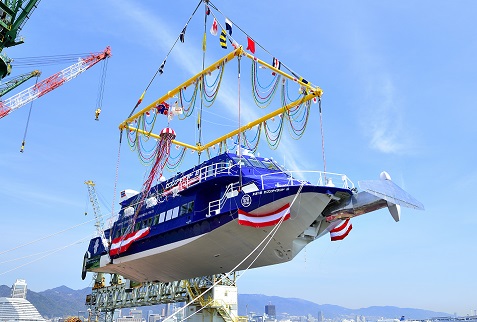 Initial launch of the Seven Island Yui
Jetfoils are passenger ships that utilize fully submerged hydrofoils, achieving high-speed propulsion while providing an exceedingly smooth ride that minimizes seasickness among passengers. These ships play an important role in high-speed marine passenger transport to remote islands of Japan and on other routes. After concluding a license agreement in 1987 to take over Jetfoil manufacturing and sales rights from The Boeing Company in the United States, Kawasaki built 15 Jetfoils between 1989 and 1995. This latest order represents the first Kawasaki Jetfoil to be manufactured in 25 years.
The company plans to continue building Jetfoils along with liquefied natural gas (LNG) carriers and other ships in order to bring greater prosperity to people around the world and help protect the global environment into the future.
The following is a summary of basic information on the Seven Island Yui.
Construction schedule
Started
May 30, 2019
Initial launch
March 26, 2020
Completion
Scheduled for June, 2020
Principal particulars
Length overall
27.4 m (with hydrofoils lowered)
Molded breadth
8.5 m
Sea speed
43 kn
Max. passenger capacity
241
Features
| | |
| --- | --- |
| - | Two waterjet propulsors driven by gas turbine engines discharge three tons of seawater per second to propel the ship forward while the two submerged hydrofoils located at the fore and aft of the hull provide lift to elevate the hull off the water's surface, enabling super-high-speed travel at a maximum speed of at least 43 knots (approximately 80 kilometers) per hour. |
| - | The vessel retains stability even in rough waves up to 3.5 meters in height, and banks into turns like an aircraft to smoothly change direction. |
Contact