Delivery of First Kawasaki's FDGS for PW1500G Regional Aircraft Jet Engine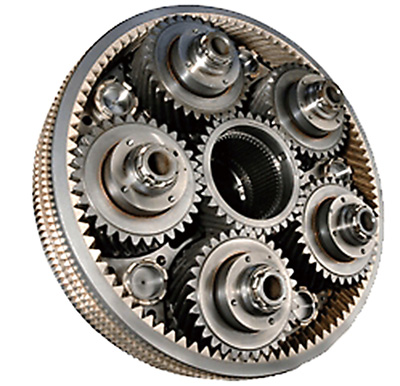 Tokyo, January 23, 2020—Kawasaki Heavy Industries, Ltd. announced today that it has delivered a Fan Drive Gear System (FDGS) for the PW1500G jet engine, manufactured in its Akashi Works facility, which is installed on the Airbus A220 regional aircraft – the first FDGS ever produced by Kawasaki.
Kawasaki participates in the PW1500G and PW1900G Geared Turbofan™ engine (GTF) programs for regional jet aircraft as a Risk & Revenue Sharing Partner with Pratt & Whitney (P&W). Kawasaki produces both the Fan Drive Gear System (FDGS) and the Combustor, which are critical components for the GTF. The GTF utilizes the FDGS to achieve a higher bypass ratio by changing the cycle speed between turbine system and fan module.
This first FDGS will be used for engine tests and FDGS production for commercial engines will commence soon.
PW1500G and PW1900G are both GTF engines. GTF engines feature a high bypass ratio with an advanced gear system, delivering upwards of 16% fuel burn improvement, 75% noise reduction, and 50% lower NOx emissions compared with traditional commercial aircraft engines.
Kawasaki has been enhancing its technological development and production capabilities of gear-related parts since the development of the jointly collaborated Kawasaki & Airbus Helicopter Deutschland BK117. Kawasaki continues to invest in and grow its civil aerospace engine business through participation in joint development and production programs.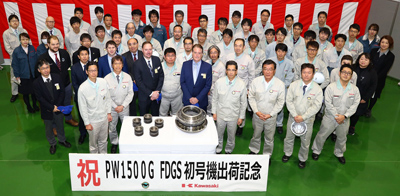 Contact