Kawasaki Completes Mid Forward Fuselage Section for One-thousandth Boeing 787 Aircraft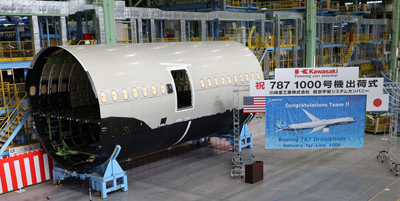 Tokyo, December 16, 2019 — Kawasaki Heavy Industries, Ltd. announced today its holding of a shipping ceremony at Nagoya Works 1 to commemorate the completion of the mid forward fuselage section for the 1,000th Boeing 787 Dreamliner aircraft produced. The mid forward fuselage section for the 1,000th 787 is scheduled for delivery to The Boeing Company in late December.
Kawasaki has been a participant in the Boeing 787 development and mass production project since 2005, handling manufacturing of the aircraft's mid forward fuselage section, main landing gear wheel well, and wing fixed trailing edge. Kawasaki has applied its KPS* proprietary production system to the manufacture of these sections, and also introduced many innovative manufacturing technologies, including the world's first one-piece fuselage barrel made entirely from composite materials. Furthermore, the company has responded to active market demand by greatly expanding, from 2006 to 2015, its Nagoya Works 1 facilities to facilitate 787-related operations. In 2014, Kawasaki introduced one of the world's largest autoclaves (composite material curing ovens) to further strengthen production operations. These efforts have enabled unhindered, smooth operations up to the present.
Kawasaki will continue to provide high-quality products in order to contribute to the Boeing 787 Dreamliner program while actively expanding its business endeavors in the field of commercial aircraft.
* Kawasaki Production System (KPS): A set of production control techniques that are unique to Kawasaki Heavy Industries, Ltd. The aim of the KPS is to establish the standardized work practices in order to achieve the same quality constantly whoever does the work; and shop rules to adhere to the standardized work practices.
Contact