Kawasaki to Release Successor®-G Remotely-operated Robotic System for Grinding, Deburring and Surface Finishing - A New Solution for Processes Struggling to Automate -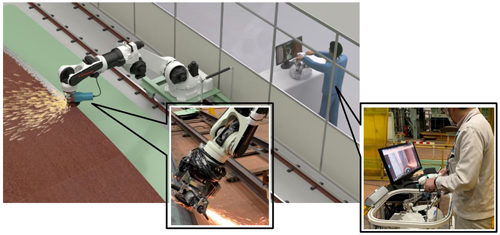 Grinding operations using the Successor®-G
Tokyo, December 12, 2019 — Kawasaki Heavy Industries, Ltd. announced today that in April 2020 it will release its Successor®-G remotely operated robotic grinding system, which can be used in grinding for welded structures, and deburring and surface finishing for cast products.
Based on the Successor® robotic system developed by Kawasaki's Robot Business Center, which was designed to re-create the movements of experienced engineers utilizing coordinated, remotely-controlled operations, the Successor®-G harnesses the technological synergy attained by combining the Energy System & Plant Engineering Company's knowledge on production of large structures with the Corporate Technology Division's software. This enables remote operations for various tasks, and in the future a tracing feature that mimics and repeats worker movements and an automated assessment capability based on image processing for product finishes will also be added. Other enhancements scheduled for the system include an ability to carry out three-dimensional measurements and provide numeric representations of finished-surface variations (roughness) in order to automatically generate operation data, thus contributing toward more sophisticated automatic assessment of surface finishes.
Grinding, deburring and surface-finishing operations require the use of protective clothing and equipment, steadying of heavy grinder equipment while carrying out tasks, and working in physically challenging environments with large amounts of dust and sparks as well as handling dangerous, high-speed rotating blades. In consideration of these conditions, worker shortages are anticipated in the coming years, resulting in a growing demand for labor saving solutions, automation and safety measures. However, because the skills of human workers are needed to handle variations among products in grinding, deburring and surface-finishing operations, the achievement of automation over a short time span is inhibited by numerous challenges.
In addition, when work is carried out manually by human personnel, the final-product quality varies according to skill levels.
The Successor®-G re-creates the movements of veteran workers via remote operation to achieve automation, thus contributing to better work environments for employees and consistent product quality.
This system is already being deployed at Harima Works for certain products in advance of the official release, and a test-use system will be available at the Harima Works Skills Academy Training Center to provide demonstrations and various tests for customers considering its introduction. In addition, Kawasaki will exhibit a working system and give visitors the opportunity to try remotely-controlled grinder operations for themselves at the company booth during the International Robot Exhibition 2019 (iREX2019), held from December 18 to 21 at Tokyo Big Sight.
Utilizing knowledge and experience in robotics cultivated over the last 50 years as Japan's first industrial robot producer, along with technical capabilities in large-structure production developed over more than 100 years since its founding, Kawasaki is building a new future for the manufacturing industry.
Main Features of the Successor®-G
-
Hybrid automated-operation and remote-operation functions
Because the system enables freely combining automated operation (via the tracing function), in which the robot memorizes the movements of a human worker and repeats them, with worker-controlled remote operations, automation is possible in production-line operations previously incompatible due to the need for highly skilled workers.
-
Automated assessment of finishing conditions
The system's use of image processing to automatically assess finishing conditions enables consistent final-product quality (feature planned for FY 2020). Furthermore, numeric representation of surface-finish roughness based on three-dimensional measurements will be used to boost finish-quality traceability and achieve more sophisticated automatic assessment.
Contact