Submarine Toryu Launched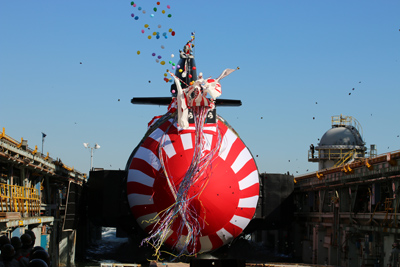 Tokyo, November 6, 2019 — Kawasaki Heavy Industries, Ltd. today held a ceremony marking the launch of the submarine Toryu at its Kobe Works' No.1 Building Berth at 12:50 PM, which was built for the Japan Ministry of Defense (MOD). The ceremony was attended by a delegation of top MOD officials.
This is the 12th Soryu class submarine, and the 29th built at the Kawasaki Kobe shipyard after World War II.
It provides high water pressure resistance by using high strength steel for its pressure hull, and superior submerged operations and propulsion performance by adopting an X-rudder. It also has lithium ion battery systems for increased underwater endurance, a variety of automated systems, improved surveillance capabilities using high-performance sonar, increased stealth capabilities, and enhanced safety measures.
The submarine's construction timetable and specifications are as follows:
Construction Timetable
Construction begun
January 27, 2017
Launched
November 6, 2019
Estimated completion
March 2021
Specifications
Length
84m
Beam
9.1m
Depth
10.3m
Displacement
2,950 tons
Engines
Kawasaki 12V 25/25 SB-type diesel engines (2)
Electric propulsion motor (1)
Armament
Underwater launch tubes
Other
Submarine snorkel
Sonar
Contact